[GHHF] Kashayam is being Distributed in TWO locations in Visakhapatnam to develop immunity.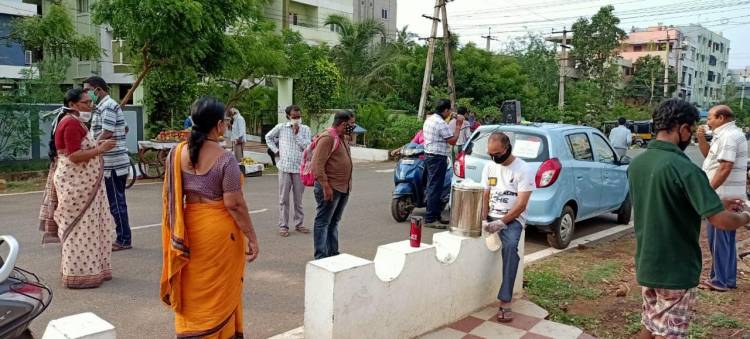 Kashayama – a kind of spiced tea – is an Ayurvedic tea brewed with several spices to boost immunity so that they would not be contracted with viruses so easily. One can take for his well-being, good health, and strength. It is quite common in India to make Kashayam during the cold weather so that they develop immunity to prevent the spread of cough, cold and fever. Also, it is given to persons who may be having fever, sneezing, and coughing.
Sri Srinivas Pinnamaneni, who volunteered to organize the event, prepares fresh Kashayam every day and distributed hot Kashayama. Global Hindu Heritage Foundation is proud to associate with him and distribute Kashayam to improve the immunity among people to counter the Coronavirus.
He is serving Kashayama in two different locations in Visakhapatnam.
Kashayam is prepared differently for different health issues, many families have their own way of preparing. The kind of spices used are different from one family to another and from one region to another.
Some of the ingredients used to make Kashayam are black pepper, fennel seeds, cumin powder, coriander, Ginger, Turmeric powder, Brown sugar, Tulsi leaves, mint leaves, Garlic, and others.
This distribution will continue for the next two weeks.
UPDATING REGULARLY: Please visit http://www.savetemples.org as frequently as possible since we are going to update our activities in all six cities very frequently. All cities are either doing Annadana, feeding animals or serving Kashayam.
DONATIONS:
We would appreciate your donation to continue annadanam to the needy, poor, and tribals as well as animals.
Sponsor ONE day meals for $250.
PayPal Method: To donate visit our website. Click on the Donate button, then press the Purpose category, and select Annadanam Category or General Donation category.
By Check: Or you can send a check payable to:
GHHF, 14726 Harmony Lane, Frisco TX 75035. It is tax-deductible.
For more information, call
601-918-7111