[GHHF] Annadanam Updates in THREE Locations in India during Lockdown
1)Annadanam started in Tirupati from May 3rd.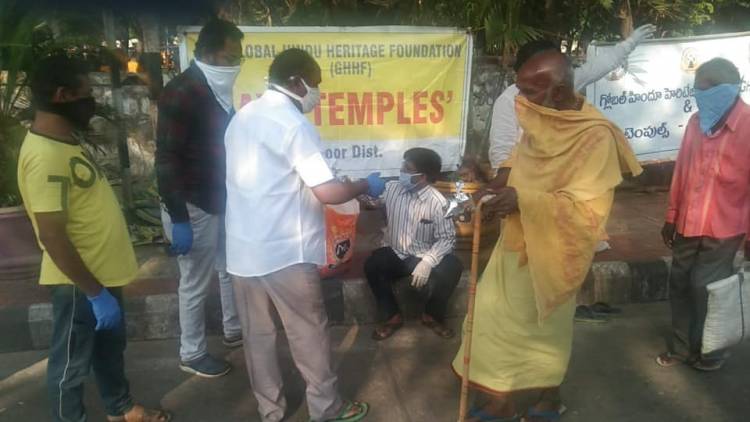 On May 3rd, GHHF volunteers started distributing Annadana packets to the poor, needy, and infirm individuals. Approximately 500 grams of a food item is packed and distributed. As many of you are aware that TTD was distributing food in Tirupati and nearby needy villages until recently. About a week ago, they discontinued. To fill the vacuum created by TTD, GHHF decides to do annadanam in certain areas and distribute them at their residences. As per guidelines, nobody is supposed to leave the house after 9:00 am. As you can see, they started distributing by 7:30 am and completed the distribution by 9:00 am. As per new guidelines, nobody is supposed to be on the streets after 9:00 am
Please visit http://www.savetemples.org as frequently as possible since we are going to update our activities in all six cities very frequently. All cities are either doing Annadana, feeding animals or serving Kashayam.
Global Hindu Heritage Foundation employees went to the area and bought enough Bananas and other fruits and fed them. Sri K Reddappa and Sri K. Subbanna have fed the cows. They will continue the Annadanam to the needy.

2) 22nd day of Feeding Cows, Monkeys and Birds near Anantapur area.
Global Hindu Heritage Foundation is incredibly happy to have the opportunity to serve these innocent animals for the last two weeks. Joining hands with the 1988/91 Degree batch, we are also able to feed these animals in Gooty and R S areas in addition to the Anantapur area. Sri Rama Sharma Kasibhatla, the Board member of Global Hindu Heritage Foundation (GHHF) and who coordinates our activities in Karnataka and other States in India received requests from different sources about the pitiable condition of these animals. are able to provide food and water to these animals.
Many volunteers are going to this village and feeding the cows and monkeys with various fruits and street dogs with biscuits. We were able to get a truckload of fruits and were able to feed them to their satisfaction. Our plan is to feed them daily with these fruits.
ABN news also covered the event. The video is attached.
3) Annadanam Seva is being done Regularly in Chittoor.
On May 3rd more than 400 people were given food. It is being done in collaboration with Sri Jayakumar, who is an active RSS member, a lawyer, and a local BJP Convenor. Annadanam is being served in the vicinity of Sri Varasiddhi Vinayaka Temple for the benefit of Balajinagar poor residents.
4) GHHF Will keep updating other Charitable Activities.
We will keep updating the annadanam activities and animal feeding activity frequently if not every day. Please visit our website frequently.
We would appreciate your donation to continue annadanam to the needy, poor, and tribals as well as animals.
Sponsor ONE day meals for $250.
To donate visit our website. Click on the Donate button, then press the Purpose category, and select Feed Farm Laborers or General Donation category.
Or you can send a check payable to GHHF, 14726 Harmony Lane, Frisco TX 75035. It is tax-deductible.
For more information, call
601-918-7111