[GHHF] Annadanam to Farm Laborers in TWO Locations in Guntur Continuing
[GHHF] Annadanam to Farm Laborers in TWO Locations in Guntur Continuing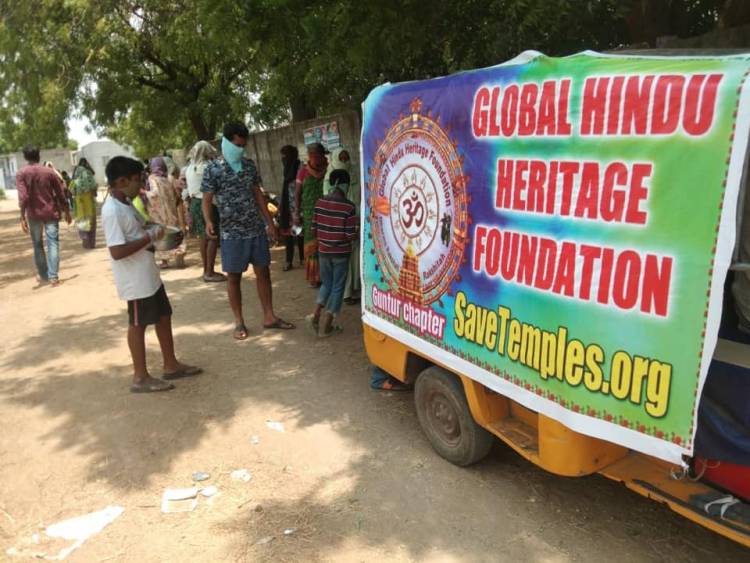 Before Guntur was declared Red Zone, we were distributing food to two different colonies - Swarna Bharati Colony, and Siva Nagaraj Colony. Now we decided to serve meals in two different Villages - one in the morning and the other village in the evening.
As many of you know that Savetemples Office in Guntur identified four locations where there is a dire need to provide meals for the farm laborers. Since no farming is being done during this lockdown period, many farm labor families have been struggling to have one regular meal. Many of them live on daily wages. If there is no work, no income will be coming to feed their families.
Dasaripalem Village, Lingayapalem, Swarna Bharati Colony, and Siva Nagaraj Colony were selected based on the desperate need basis by our office and other friends of Savetemples movement. In these three locations, we decided to provide 400-500 meals to these farm laborers and their families.
Many volunteers decided to cook every day and provide one good meal around mid-day. You can see there are some ladies who are cleaning and cutting the vegetables while others are cooking the meals. As you can see that in Dasaripalem village our people served the meals for everyone who came with plates. They were asked to stand in line maintaining the distance.
In two colonies in Guntur municipality, authorities did not allow our people to cook and serve the meals due to the fear of spreading Coronavirus. As a result, our Savetemples volunteers bought dry food items and packed them in bags and distributed them individually to each family. Each bag contains rice, dal, vegetables, salt, tamarind, and other items for them to cook. You can see our volunteers distributing these dry meal bags.
DONATIONS:
We would appreciate your donation to continue annadanam to the needy, poor, and tribals as well as animals.
Sponsor ONE day meals for $250.
PayPal Method: To donate visit our website. Click on the Donate button, then press the Purpose category, and select Annadanam Category or General Donation category.
By Check: Or you can send a check payable to:
GHHF, 14726 Harmony Lane, Frisco TX 75035. It is tax-deductible.
For more information, call
601-918-7111