GHHF About 50 Christians were welcomed back into Hindu Dharma; Bonali's were offered to Grama Devata; Call to HELP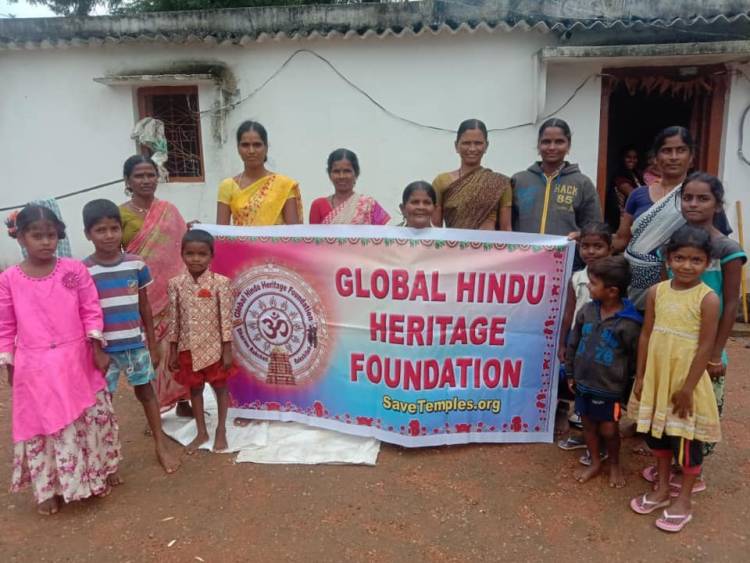 Global Hindu Heritage Foundation in association wot other organizations welcomed about 50 Christians back to Hinduism. Our volunteers headed by Laxmi Nivas went to each house and talked about Bhagavad Gita and Bible. He mentioned that our culture is rich in stories one can find in Puranas, Mahabharata, Ramayana, and may local traditions that give so much respect for women. Many ladies with their children went to Grama Devatas and offered Bonali. They were incredibly happy to come back to the mother's lap.
SCST Committee member Ch. Narasimham also joined tour efforts and spoke to some of these people who returned to Hinduism. It was celebrated with a dance and drums.
FUTURE PLANS
Because of Coronavirus, we are withholding our efforts to go to the villages in Chittoor District, Guntur District and Krishna District. We have hired 5 people to go to villages and organize Ghar Waapasi.
Depending on resources, we can expand to many other villages.
NEED YOUR HELP: We appreciate it if you can help in hiring more people who can go to these villages to do Ghar Waapasi. We have employed 7 people so far. More people we hire more villages can be covered to welcome them back and also create Chaitanya (Awareness) among the students and villagers.
DONATIONS
PayPal Method: To donate visit our website: http://savetemples.org Click on the Donate button, then press the Purpose category, and select the General Donation category.
By Check: Or you can send a check payable to GHHF, 14726 Harmony Lane, Frisco TX 75035. It is tax-deductible.
For more information, call 601-918-7111; Email: ghhfusaorg@gmail.com
--
Dhanyavad,
Prakasarao Velagapudi, PhD
601-928-7111