GHHF Ghar Waapasi in Mahbubnagar District in Telangana; 6 Families were welcomed back into Hindu Dharma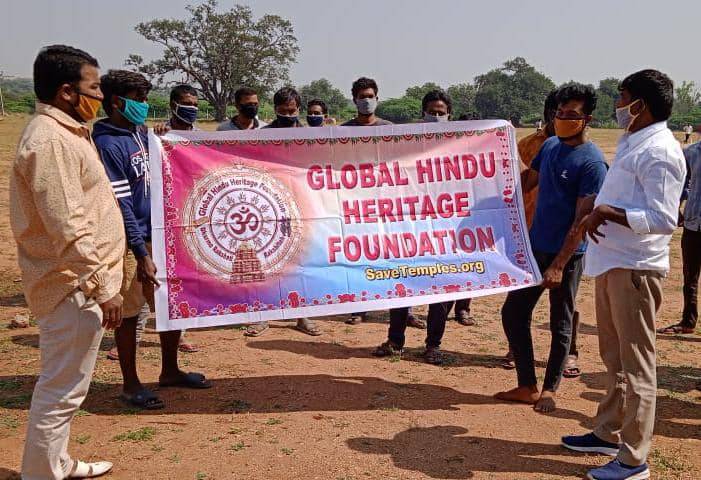 Global Hindu Heritage Foundation (GHHF) is incredibly happy to announce that we collaborated with the Nitya Satyam organization to conduct the Ghar Waapasi program in Mahbubnagar in Telangana State. Lakshmi Nivas has been actively going around the area and was able to welcome back 6 families. These families who returned to Hinduism were given literature explaining the difference between Hinduism and Christianity.
GHHF is committed to engaging in Ghar Waapasi by giving utmost importance to welcome the converted Christians back to Hindus who may have drifted away for different reasons without full comprehension. This is the only way to bring back those who took the wrong path for different reasons.
WE NEED YOUR HELP
We appreciate it if you can help in hiring more people who can go to these villages to do Ghar Waapasi. We have employed 7 people so far. More people we hire more villages can be covered to welcome them back and also create Chaitanya (Awareness) among the students and villagers.
SPONSOR AN ASSOCIATE:
In order to expand our base and hire one Associate, it would cost approximately $3000.00 per year. Please consider sponsoring one associate. The more we can hire; the more we can reach our villages to conduct Ghar Waapasi.
We have three anonymous donors who sponsored FOUR Assistants.
DONATIONS
PayPal Method: To donate visit our website: savetemples.org. Click on the Donate button, then press the Purpose category, and select the General Donation category.
By Check: Or you can send a check payable to GHHF, 14726 Harmony Lane, Frisco TX 75035. It is tax-deductible.
For more information, call Prakasarao Velagapudi at 601-918-7111;
Email: ghhfusaorg@gmail.com