[GHHF] Annadanam Started on April 24 in Chittoor and will continue until May 3rd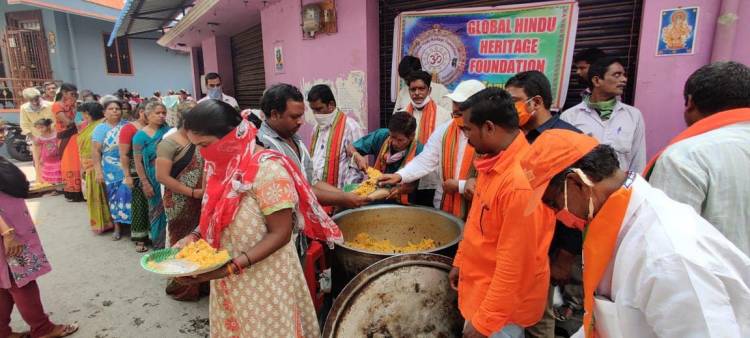 Realizing the need to provide meals for the needy, starting on April 24, Global Hindu Heritage Foundation started Chittoor Chapter and started with Annadanam in Indiramma Colony near Murukam Patta area. In this colony most of the residents are SCs, BCs and STs. These are the laborers whose livelihood depends on daily wages. Because of Lockdown they are not able to earn any daily wages. This area is in between Kanipakam and Chittoor.
Sri V Jayakumar has taken the lead to coordinate this effort knowing the dire need of providing annadanam to these needy and poor people. He is aware of the importance of annadanam extolled in various scriptures and felt the need. In Brahma Purna there is a story of the King Bhauvana, who wanted to give land to Sage Kasyapa who was his family priest. At that time, a heavenly voice was heard saying, "Do not think of the gift of land but give food, which brings a great reward Because of its moral merit, the gift of food is sacred in all three worlds."
As of April 28,with the help local RSS and other voluntary organizations provided Annadanam to more than 2000 and they are getting ready to serve even more.
THREE newspapers have already covered the news where GHHF contribution is acknowledged.
Your Donations are appreciated. Details are given below at the end of this writeup.
DONATIONS:
We would appreciate your donation to continue annadanam to the needy, poor and tribals as well as animals.
Sponsor ONE day meals for $250.
To donate visit our website. Click on the Donate button, then press Purpose category, and select Feed Farm Laborers or General Donation category.