[GHHF] 116 Priests and their families were honored on June 2 in Vijayawada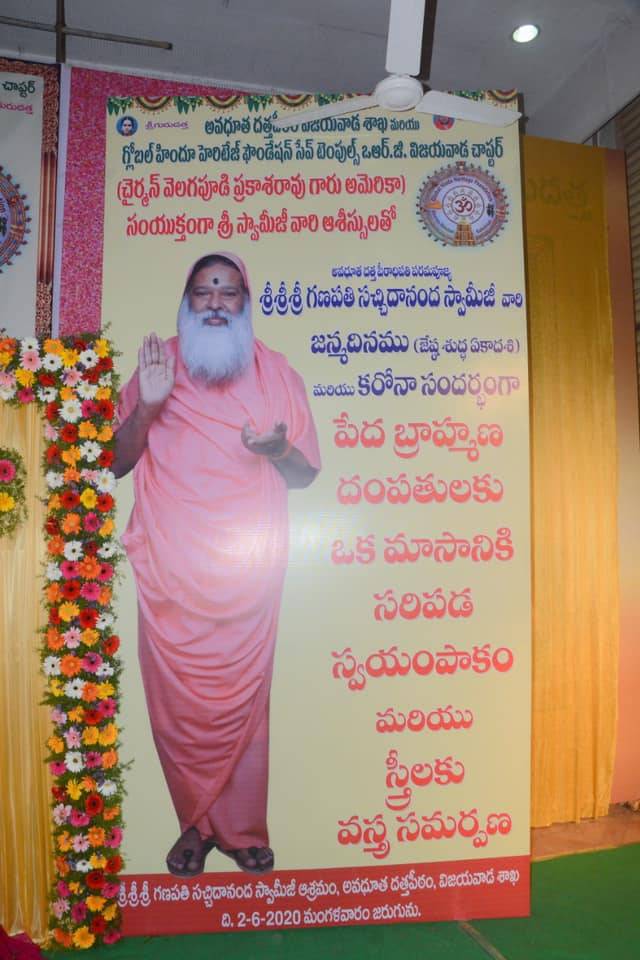 Global Hindu Heritage Foundation in collaboration with SGS Avadhuta Datta Peetham of Sri Ganapathy Sachchidananda Swamiji honored the 116 Priests with their wives at SGS Avadhuta Datta Peetham in Vijayawada on June 2 (Tuesday).
We are grateful to Sri Chandra Mohan, who has taken the full responsibility to identify 116 priest, make necessary arrangements, decorate the hall, plan the seating arrangements, and follow Covid – 19 guidelines. He has done a great job by paying attention to every details.
On this great Occasion, each priest was honored with Rs 5000. F other wives, each one was given one Sari with Blouse, one Fruit, Turmeric, Kumkum, Beetle leaves with nut powder, two Masks and Rs 11. Main program started at 10:00am and continued till 1:00pm.
Media
Sakshi, Eenadu , ABN Andhra Jyoti, I News , TV 9, NTV , TV5 Citi Cable Media attended. For every 30mnts Scrolling has delivered.
The Dignitaries who graciously agreed to participate in the event:
1) Smt. K. Usha Rani IAS, Principal Sec. Revenue.
2) Sri B. Rama Rao IAS, BC & Social Welfare (Senior Officer ) & SAP Director
3) Sri Ch. Chandra Sekhar IPS, CPMG.
4) Sri S. Raja Sekhar IRS, Senior Chief Commercial Manager Railways Krishna& Guntur Districts.
5) Bhargavi IAS BC Welfare Add Director.
6) G. Ramana IAS, Joint Director Social Welfare ,
7) Chinna Rao IAS,SAP Finance Director
8) J. Koteswaramma IAS, Secretary, Finance.
9) D. Ushasri IFS, Director
10) Nagaraja Reddy, IPS Add. SP Central.
DONORS:
GHHF is grateful for all the donors who have generously contributed to honor the Priests who really needed help and who deserve to be acknowledged of their priestly service.