[GHHF] In Tirupati, Annadanam is being done for folks on the streets and in the poorest neighborhoods
In Tirupati, Annadanam is being done for folks on the streets and in the poorest neighborhoods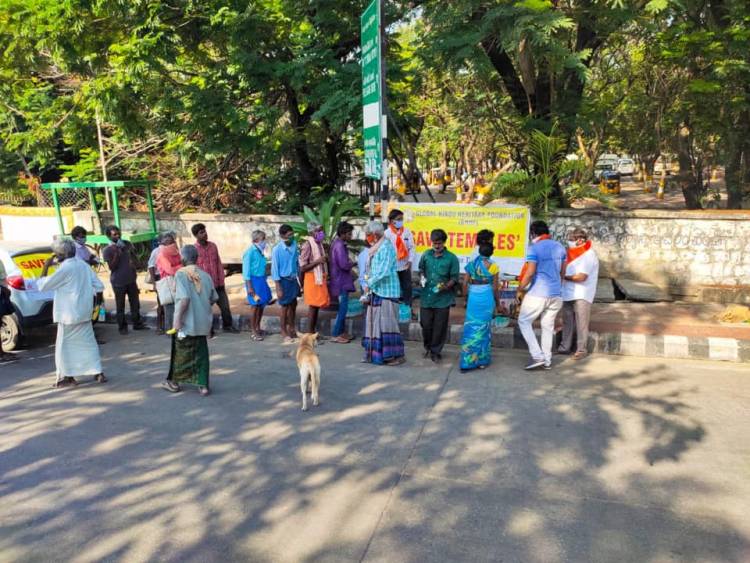 On May 4th, Global Hindu Heritage Foundation volunteers prepared meals and packed and distributed to the folks who were living on the streets and extremely poor people living in the poorest neighborhoods. They also distributed about 100 masks for these people, banana and water bottles.
0n May 3rd, GHHF volunteers started distributing Annadana packets to the poor, needy, and infirm individuals. Approximately 500 grams of a food item is packed and distributed. As many of you are aware that TTD was distributing food in Tirupati and nearby needy villages until recently. About ten days ago, they discontinued. To fill the vacuum created by TTD, GHHF decides to do annadanam in certain areas and distribute them at their residences. As per guidelines, nobody is supposed to leave the house after 9:00 am. As you can see, they started distributing by 7:30 am and completed the distribution by 9:00 am. As per new guidelines, nobody is supposed to be on the streets after 9:00 am.
The Hindu, Hans India, Enadu, Andhra Prabha, and Sakshi covered the Annadana event.
Global Hindu Heritage Foundation employees went to the area and bought enough Bananas and other fruits and fed them. Sri K Reddappa and Sri K. Subbanna have fed the cows. They will continue the Annadanam to the needy.
UPDATING REGULARLY: Please visit http://www.savetemples.org as frequently as possible since we are going to update our activities in all six cities very frequently. All cities are either doing Annadana, feeding animals or serving Kashayam.
DONATIONS:
We would appreciate your donation to continue annadanam to the needy, poor, and tribals as well as animals.
Sponsor ONE day meals for $250.
PayPal Method: To donate visit our website. Click on the Donate button, then press the Purpose category, and select Annadanam Category or General Donation category.
By Check: Or you can send a check payable to:
GHHF, 14726 Harmony Lane, Frisco TX 75035. It is tax-deductible.
For more information, call
601-918-7111