[GHHF] Appreciation Lunch served for First Responders attending to Coronavirus Patients in Dallas/Fort Worth Area for next 4 weeks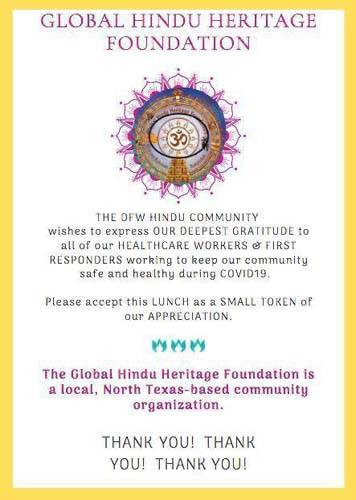 Appreciation Lunch served for First Responders attending to Coronavirus Patients in Dallas/Fort Worth Area for next 4 weeks
"Thankfulness is the beginning of gratitude. Gratitude is the completion of thankfulness. Thankfulness may consist merely in words. Gratitude is shown is acts." Henri Frederic Amiel
Many Hindu organizations and individual donors decided to provide LUNCH to the First Responders who are taking care of Coronavirus patients. Hindu Community is providing lunch under the banner of Global Hindu Heritage Foundation.
Lunch will be provided to the police officers and medical professionals for the next four weeks.
Estimate cost for serving the meals is approximately $50,000.00
Donations to GHHF for this purpose are appreciated. Write a check payable to: GHHF and mail it to: 14726 Harmony Lane, Frisco TX 75035
You can also donate by visiting our website: https://www.savetemples.org and click on Donate button. Then press on purpose button and select FIRST RESPONDERS and donate the amount for the cause.
We will update the number of meals we served with pictures soon.

Dhanyavad.
Please subscribe to Save Temples Telegram channel at https://t.me/savetemples