[GHHF] Annadanam on the occasion of Hanuman Jayanti in Chittoor
[GHHF] Annadanam on the occasion of Hanuman Jayanti in Chittoor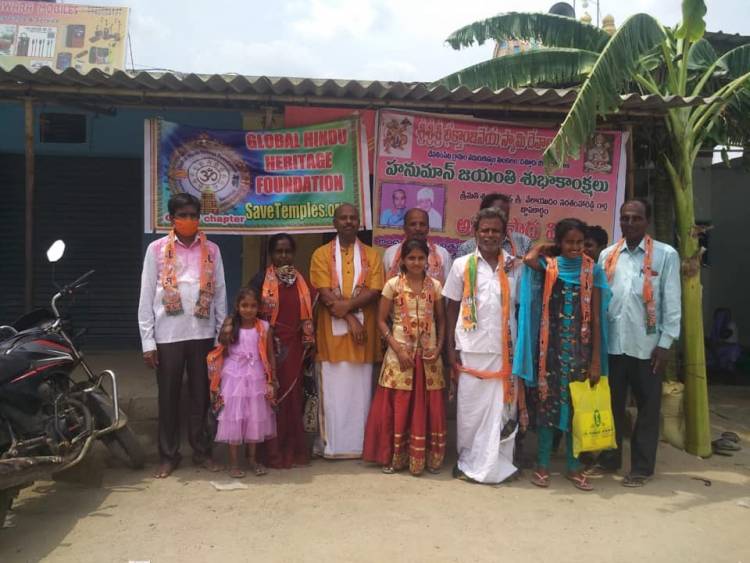 On May 16th, Hanuman Jayanti was celebrated with devotion, passion, and dedication at Bhakti Anjaneya Temple located in Devalam Peta. The morning started with Abhishekam, alankaram and puja along with singing devotional songs dedicated to Sri Anjaneya. After the celebration more than 1000 people were served sumptuous meals.
Prayers were offered to Sri Anjaneya to protect people from the deadly Coronavirus and spare them from the potential deaths. Speaking on the occasion, Sri Jayakumar, one of the Board members to do pujas on regular basis to avert from the deadly virus. He also advised the assembled people to work for the welfare of the humanity and establish Hindu Rashtra. He talked about Global Hindu Heritage Foundation's efforts to preserve and protect our Hindu Temples and also our rich culture.
Sri Jayakumar also reminded people of the importance of charity and to see that we take care of the poor people, animals, and birds. Temple priest Sr Sri Sreenivas, Manager Sri Muniswamy, BJP leaders Sri Govind, Sri Viswanath Reddy, Sri Muniratnam Naidu, Sri Jagannadha Shetty and others participated.
Also, they distributed first and second prizes to those who participated in the competition of Devotional singing. Similarly, they first and second prizes for competing in cricket match.
DONATIONS:
We would appreciate your donation to continue annadanam to the needy, poor, and tribals as well as animals.
Sponsor ONE day meals for $250.
PayPal Method: To donate visit our website. Click on the Donate button, then press the Purpose category, and select Annadanam Category or General Donation category.
By Check: Or you can send a check payable to:
GHHF, 14726 Harmony Lane, Frisco TX 75035. It is tax-deductible.
For more information, call