GHHF Additional Priests and their families were honored in Vijayawada, Bengaluru and Kochin
GHHF Additional Priests and their families were honored in Vijayawada, Bengaluru and Kochin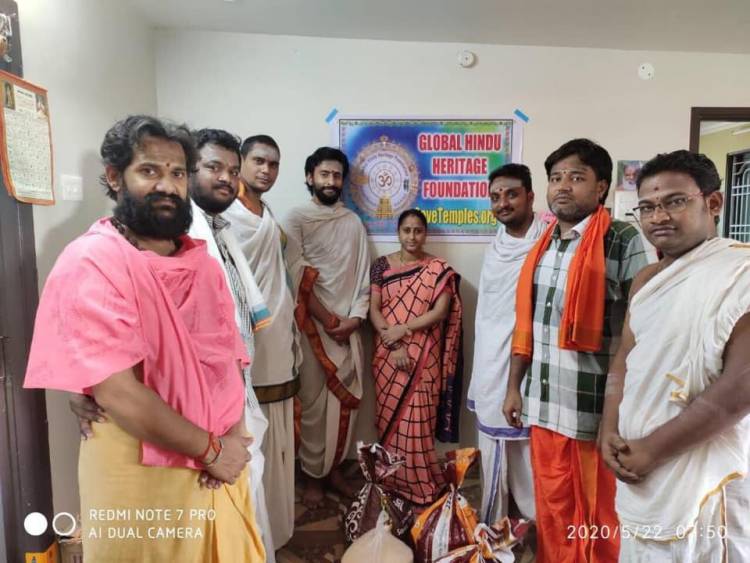 As many of you know that Global Hindu Heritage Foundation in collaboration with SGS Avadhuta Datta Peetham of Sri Ganapathy Sachchidananda Swamiji honored the 116 Priests with their wives at AGS Avadhuta Datta Peetham in Vijayawada on June 2 (Tuesday).
We are grateful to Sri Chandra Mohan, who has taken the full responsibility to identify 116 priest, make necessary arrangements, decorate the hall, plan the seating arrangements, and follow Covid – 19 guidelines. He has done a great job by paying attention to every details.
Additional 18 Priests were honored in Vijayawada, Bengaluru and Kochin.
On this great Occasion, each priest was honored with Rs 5000. F other wives, each one was given one Sari with Blouse, one Fruit, Turmeric, Kumkum, Beetle leaves with nut powder, two Masks and Rs 11. Main program started at 10:00am and continued till 1:00pm.Because of the fear of spreading Coronavirus, all the Hindu Temples are closed. Now, many Pujaris / Hindu Temple priests are having a hard time meeting their basic needs. Many of them do not have any salaries either from the government or from the private Temples. Most of them do not have enough savings to pay their rent and electricity. Furthermore, many private temples do not have enough income to pay their salaries. Consequently, many Pujaris do not have enough resources to meet their daily expenses to provide meals to their families. Recently, newspapers wrote about some priests begging on the streets as they could not provide meals for the family. That news pained so many people and some organizations are helping them financially. They are facing a grim and grave predicament.
It is time to help these Priests to meet their monthly expenses with our generous donation. It is time to acknowledge their invaluable service to Hind Temples and Hindu Dharma. It is time to protect their dignity and self-respect.