[GHHF] 9000 Tribals were provided Annadanam in Visakhapatnam Area since Lockdown – Target to Feed 16,000 by May 3rd.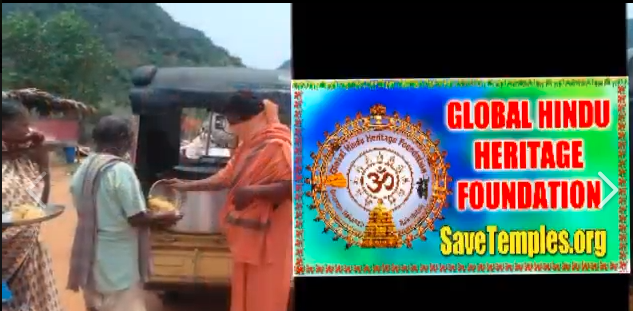 As you all know that Global Hindu Heritage Foundation (GHHF) is providing meals to Farm laborers in three different locations in Guntur area. Similarly, GHHF has taken responsibility with the initiative of Sri Ram Sharma Kasibhatla, one of the Board members to provide food to the cows, the monkeys, the dogs, and the birds in the Ananthapuram area. Please visit our website: www.savetemples.org
GHHF in association with Dana Dharma Foundation and Sri Sai Datta Manasa Peetam Trust is providing meals in tribal areas in Srikakulam, Vizianagaram, Vizag districts since Prime Minister announced the Lockdown.
Sri Saidatta Lokeswarnanda Swamiji has been traveling to these three districts and arranging meals for the poor people as well as tribal people in these three districts.
Annadanam was served to about 9000 people since the Lockdown was announced on March 24. Later it was extended to May 3rd.
Sri Sai Datta Lokeswarananda Maharaj Swamiji has graciously agreed to coordinate our Savetemples activities in and around the Pendurthi area. Sri Swamiji has been working in the area for the last three years inculcating moral/cultural values for more than 25 tribal Govt. schools, distributing books and stationery to needy poor kids and conducting competition exams, providing meals, feeding cows and educating villagers to develop skills in handicrafts.
There are many pictures to upload. But we will attach a few pictures and videos.
Donations: Interested donors can visit our website and Press Donate button and select General Donation under the PURPOSE. To sponsor one-day meals for up to 400-500people in one village costs approximately $250.
For additional information, call 601-918-7111
Dhanyavad
Please subscribe to Save Temples Telegram channel at https://t.me/savetemples