GHHF Wishes a Happy Blissful Sri Krishna Janmashtami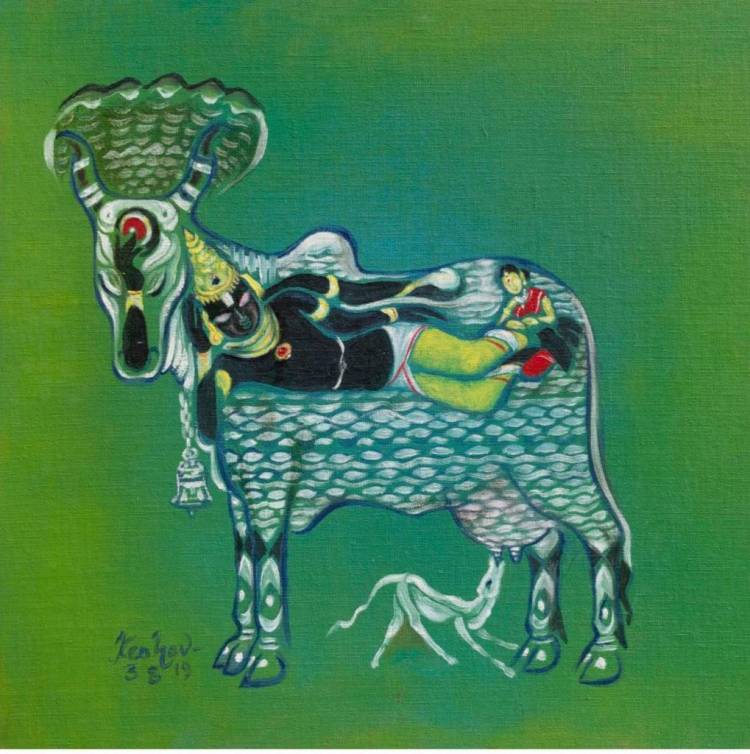 Global Hindu Heritage Foundation wishes a happy, blissful and prosperous Krishna Janmashtami as we all celebrate the birth of Bhagavan Sri Krishna
Sri Krishnashtami", is called "Gokulaashtami", "Srikrishna Jayanti", "Sree Jayanthi" simply as "Janmashtami". Krishna Janmashtami is a special Day. All Hindus celebrate the birth of Bhagavan Krishna this year on August 11.
Sri Krishna is known as Gopal (protector of cows) or Govinda (one who gives pleasure to the cows). Bhagavan Sri Krishna is often depicted playing his flute amongst cows. Cows bestow happiness and prosperity. They are all worshipped for being Kamadhenu – wish-fulfilling Cow. Sri Krishna and cows are always together. One cannot be separated from the other. Bhagavan Sri Krishna tended the cows, fed them, protected them, and used to drink cow's milk and eat their butter.

The cows are also a devotee of Sri Krishna. They love Sri Krishna, and they even cried when Krishna left Vrindavan. The cow is the mother of all creations. 33 crores of Gods and Goddesses reside in the cow bestowing happiness and prosperity.
In Bhagavad Purana, Lord Krishna says, "I can be worshiped within the Cows by offerings of grass and other suitable grains and paraphernalia for the pleasure and health of the Cows, and one may worship Me within the Vaishnavas by offering loving friendship to them and honoring them in all respects. "Mere presence of cow fulfills the desires of the individuals.
A cow is considered as Kamadhenu because it fulfills the desires. All her products such as milk, ghee, urine, cow dung, and curd have numerous health and spiritual benefits. Scriptures say, "Gavo Vishwasya Matharaha" -Cow is the mother of the universe. She is recognized for her contribution to agriculture, transportation, food, medicine, religious functions, emotional stability, and economy.
Bhagavan Krishna said in Bhagavad Gita, "Among cows I am Kamadhenu" - the wish-fulfilling cow
Bhishmacharya in Mahabharata says, Cows "represent sacrifice itself. Without them, there can be no sacrifice. With their milk and the Havi produced therefrom, they uphold all creatures by diverse acts. Cows are guileless in their behavior. From them flow sacrifices and Havya and Kavya, and milk and curds and ghee. hence cows are sacred. " Mahatma Gandhi also believed that the "Cow protection is the gift of Hinduism to the world. And Hinduism will live so long as there are Hindus to protect the cow…… Hindus will be judged not by their TILAKS, not by the correct chanting of MANTRAS, not by their pilgrimages, not by their most punctilious observances of caste rules, but their ability to protect the cow. (Young Indian, 6-10-1921, p. 36). Recognizing our efforts of GHHF to protect Gomata, AP Government issued GO to that effect on April 1, 2016 directing all the Hindu Temples to perform Gopuja recognizing the importance and significance of Gomata.
Realizing the significance of the sacredness of Gomata, Global Hindu Heritage Foundation prepared a letter requesting the Honorable Sri Manikyala Rao, the Minister for Endowments requesting the Andhra Pradesh Government to declare Krishna Janmashtami as Gopuja Dinotsavam. That letter was submitted to the Minister at his house in November 2015.
Letter to Endowment Minister and the GO issued by Andhra Pradesh government are attached below for your information.
Jai Hind.
--
Dhanyavad,
Prakasarao Velagapudi, PhD
601-918-7111