[GHHF]  FIR Filed in response to Death Thread to Savetemples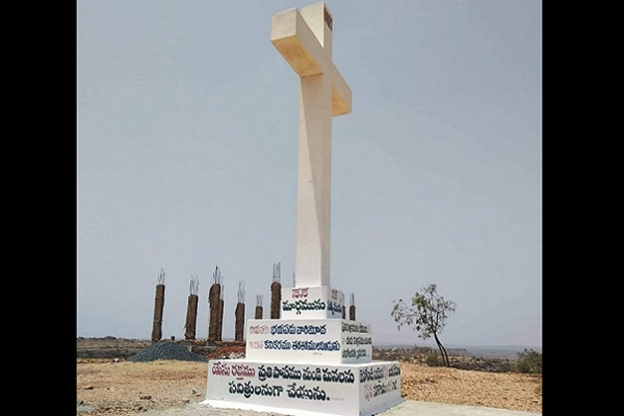 THOMAS PAINE said:"Of all the systems of religion that were ever invented, there is none more derogatory to the Almighty, more unedifying to man, more repugnant to reason, and more contradictory in itself, than this thing called Christianity. Too absurd for belief, too impossible to convince, and too inconsistent for practice, it renders the heart torpid, or produces only atheists and fanatics. As an engine of power, it serves the purpose of despotism; and as a means of wealth, the avarice of priests; but so far as it respects the good of man in general, it leads to nothing here or hereafter"

The dark side of Christianity abundantly reveals that the killings, torture, nailing the non-believers to the cross, parading naked women, stoning their children to death for indiscipline, selling their daughters as slaves and many other atrocious acts are part and parcel of the Christian faith. All non-believers are sinners that can be disposed of. It is their mission to convert by any means possible. Bible allows the followers to use any deceptive practice to convert. Threatening to kill is one of the mechanisms they use to create fear among Hindus. As Thomas Paine said that Christianity is more derogatory to the Almighty, too absurd to reality and repugnant to reason.
As you may know that Savetemples website received the following Death Threat from a Christian Pastor R Praveen Kumar. It was reported to Cyber police to investigate and identify the source of the email and determine the person or persons who conspired to send the threat.
Following is the message from the Pastor:
PLEASE CLOSE YOUR ACCOUNT AND WEBSITE THAT IS SAVETEMPLES.ORG. OTHERWISE WE WILL KILL YOU SOON. OTHERWISE WE HACK AND DELETE YOUR ACCOUNT. WE HAVE WEAPONS. OUR VOLUNTEERS READY FOR BATTLE. KILL YOU IF YOU WON'T DELETE.
On July 25, we have received this message through email from Pastor R. Praveen Kumar. "One book, one God, and one way" is the Christian doctrine. Anybody who disagrees with this doctrine is condemned to hell. Even after 2000 years, since Christians are not able to make inroads into Hindu faith, they resort to violence and terror. They have always succeeded to convert many nations only through violence.
In the name of their God, Jesus, though out the history, the Christians fostered hatred, proclaimed exclusivity, demeaned the lives of other religious people, destroyed the idols, disfigured the images, converted forcefully, demolished Hindu temples, banned Hindu rituals and festivals, prohibited speaking native language, triggered violent encounters, inflicted horror on the children, disallowed wearing Indian dresses, dismembered children in front of their parents, and even proscribed the items such as betel leaves, turmeric, kumkum, flowers, coconuts, areca nuts, etc. This was all done in Goa and other places in India. They want to repeat those atrocities by threatening Hindus and their organizations.
What the Christians are doing today with their rampant Christian conversion machinery is reminiscent of Goa inquisition where the cruelties are the vilest. Bible tells the to be deceptive and go around like a snake in hiding. It says, "Behold, I am sending you out as sheep in the midst of wolves, so be wise as serpents and innocent as doves. Beware of men, for they will deliver you over to courts and flog you in their synagogues, and you will be dragged before governors and kings for my sake, to bear witness before them and the Gentiles. ...
But the secular media is blind to the atrocities of proselytization, exclusivity and one god phobia, one wonders about their source of living. Are they abetting the atrocities of Christians? Are they sold to the Christian money machine?
Now Christians are getting emboldened with the recent elections in Andhra Pradesh and showing their real colors. Buttressed by the support of the so-called secularists, liberal media, so-called intellectuals, politicians, so-called Hindus and atheists, Christians and Muslims are targeting Hindus. It is time for Hindus to stand up and fight for their survival.
Listed below is the FIR filed in Hyderabad. We will update the progress on the developments.
Thank you for all your support.