Laksha Chandi Maha Yagnam starts today -October 16- until October 26. Please Register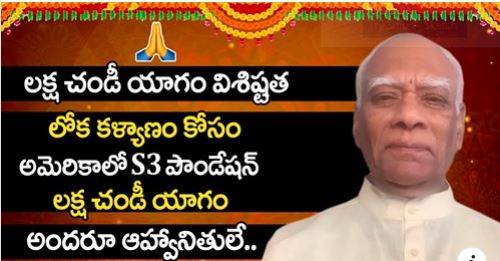 S3 Foundation is organizing Laksha (100,000) Chandi Maha Yagnam in Memphis TN, USA during Navaratri Time, October 16 thru 26 for Loka Kalyanam and Vishwa Shanti. To our knowledge, nobody has conducted this kind of Yagnam at this scale. Chandi Homa is conducted to invoke the blessings of Goddess Chandi – the fierce and powerful form of Goddess Shakti. She is an embodiment of power, energy, fearlessness, courage, bravery, and the divine forces, that safeguard all of us from evil forces, internal enemies, external threats, mysterious ailments, and create a balance between body and mind.
We request every one to take this opportunity to participate and support this extraordinary event and reap the countless benefits of Maha Yagna and receive the boundless blessings from Mother Chandi.
Interview on Chandi Maha Yagnam in Telugu by Suman TV by Prakasarao Velagapudi
REQUESTING TO REGISTER
S3 Foundation requests you to REGISTER for Laksha Chandi Maha Yagnam as soon as possible.
The attached brochure will give more details about the program and how to register
Venue: S3 Gaushala, 7945 Deadfall Road, Arlington, Tennessee.
Dates: October 16 – 26, 2020
For information, contact: Ms. Sarkar (901-828-4735), Mrs. Deepika (805-403-0672), Dr. Achar (901-606-7012); and Mrs. Vinila (201-893-5578).
Email:Gaushalausa@gmail.com
Visit their website to find how you can participate: www.Gaushalausa.org