GHHF Ghar Waapasi started in three Villages in Bandar Mandal near Machilipatnam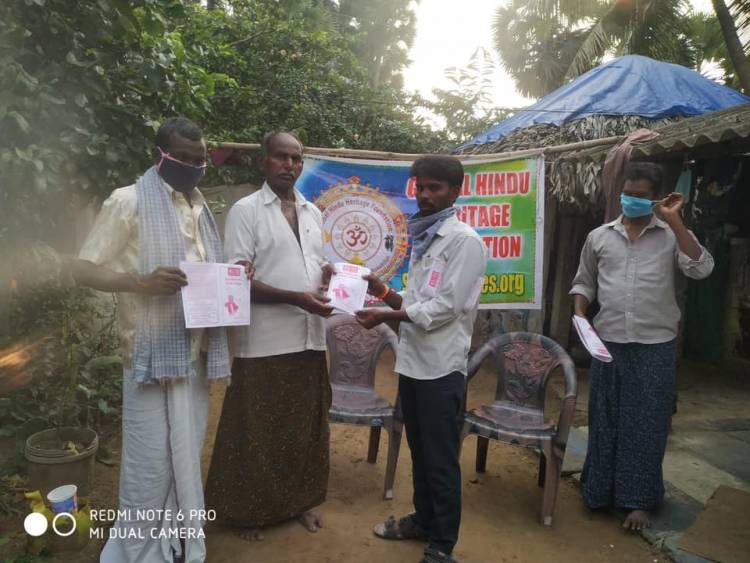 If the Christian dogmas of a revengeful God, universal sinfulness, election by divine grace and the danger of eternal damnation were true, it would be a sign of weak-mindedness and lack of character not to become a priest, apostle or hermit and, in fear and trembling, to work solely on one's own salvation; it would be senseless to lose sight of one's eternal advantage for the sake of temporal comfort. Nietzsche's Human, all too Human
Global Hindu Heritage Foundation started Ghar Waapasi program in Bandar Mandalam around Machilipatnam actively going to different to meet the Christians who have taken the wrong path due to different reasons. Mr. Nagaraj visited three villages – Nageswara Puram, Tavasipudi and Amadalapalli – in Bandar Mandalam with the help of many volunteers in the villages. They plan ahead as to which village or area they need to go to and assemble the people to talk about the differences between Hinduism and Christianity. Many of the Hindus who changed to Christianity feel that they do not belong there. But the Pastors keep demanding their loyalty and create fear by saying that they would burn in hell forever. They are encouraged by the response of these Christians who missed the way and who have been waiting to be approached so that their fears are allayed.
WE NEED YOUR HELP
We appreciate it if you can help in hiring more people who can go to these villages to do Ghar Waapasi. We have employed 7 people so far. More people we hire more villages can be covered to welcome them back and also create Chaitanya (Awareness) among the students and villagers.
How Much it would cost to Employ: Per year approximately $3000 is needed to employ one Assistant. Anybody interested in supporting our efforts or sponsor one Assistant, you can call me at 601-918-7111.
We have three anonymous donors who sponsored FOUR Assistants.
DONATIONS
PayPal Method: To donate visit our website: savetemples.org. Click on the Donate button, then press the Purpose category, and select the General Donation category.
By Check: Or you can send a check payable to GHHF, 14726 Harmony Lane, Frisco TX 75035. It is tax-deductible.
For more information, call Prakasarao Velagapudi at 601-918-7111;
Email: ghhfusaorg@gmail.com