[GHHF] Requesting to Enforce GO 426; Remove Non-Hindu Presence in Hindu Temples
Global Hindu Heritage Foundation
14726 Harmony Lane, Frisco Texas USA 75035
Door # 19-41-S3-1406/16; KBR Brindavanam; Sumanth Home, Kaikala Cheruvu,Tirupati, Chittoor District, AP 517 501
August 27, 2019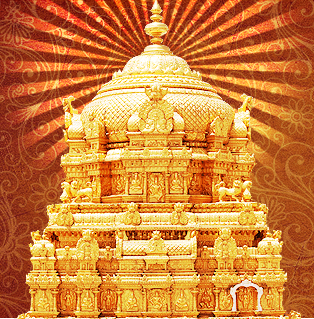 Request to Enforce GO 426 to ensure Non-Hindus do no not operate shops and vacant lands, do not receive contracts and are removed from Employment from all Hindu Temples
Hon. Sri Vellampalli Srinivas
Minister for Endowments
Room No. 137, Ground Floor,
Building N 2, Velagapudi, AP
Subject: Requesting to Enforce GO 426; Remove Non-Hindu Presence in Hindu Temples
Dear Hon. Srinivas Garu:
Global Hindu Heritage Foundation (GHHF) was started in 2006 with a mission to preserve and protect Hindu Temples and Sanatana Dharma. Recent events at Sri Bhramaramba Mallikarjuna Temple in Srisailam are unfortunate and insulting to Hindus. The Executive Officer, Sri Sreerama Chandra Murthy, who is alleged to have been converted to Islam and who has two wives has not been noticed by the Government. It is also believed that he has refused to appear in the High Court. He has been allowing Muslims to auction shopping sites, vacant sites, and bid for contracts from the Temple in spite of theGovernment Circular issued in 2011 and GO MS No 426 issued in 2015 which forbids Non-Hindus from bidding for shops and other activities in the Temple complex.
But some Executive Officers have been ignoring the GOs and allotting shops to Muslims and Christians. Further, many Muslims are also hired as employees of Sri Sailam Temples. The Endowment Circular even stipulates that the Executive authorities should impose the restrictions on the participation of non-Hindus in the auction to lease out shops, buildings / vacant sites, and license rights; and also should not recommend the extension of leases of shops, buildings / vacant sites to any tenants who are not professing Hindu Religion. The Endowment Circular is very clear; that non-Hindus are not entitled to bid for the tender and should not be renewed if they are sitting tenants. The Endowment Minister realizing the brewing trouble, he asked the Endowments Commissioner to cancel the auction.
Please note that these GOs and Endowment Guidelines have been in force for more than eight years for any Executive Officer not to get acquainted. They all know about these GOs prohibiting No-Hindus to operate shops and bid for contracts. There is no ambiguity in these guidelines. Government's non-action against the Executive Officers encourage them to take advantage and allot shops. They are willfully, intentionally and deliberately violating the rules and challenging the guts of the government.
Why did these Executive Officers ignore the government and act independently? We can think of the following reasons:
The realization that government would not and dare not act against these Executive officers because they know that the governments over the last two decades have been pampering the minorities at the expense of Hindu patience, tolerance and of course their indifference, selfishness and personal gratification.
As we all know that there is rampant corruption at each level of the government. Nobody is going to bell the cat to reveal the corrupt practices of these officers.
Many of these Government employees know pretty well that most government can do is transfer without any serious charges leveled against them.
Some of them have already converted to other faiths and would not have the moral compass to resign from the post as their religion requires them to even hide their faith and lie about it. They even engage in propagating other faiths in Hindu Temples.
Realizing the confusion about the demands of non-Hindu claims and the Endowment official hatred toward Hindu way of life, the Government circular was issued in 2011 prohibiting non-Hindus to participate in the auctions for various leases and licenses to operate shops and bid to acquire contacts. It stated that "Allotment of shops, buildings / vacant sites in and around the premise (Alaya Kshetram) of Religious Institutions and various License tights in the Temple shall be leased out to the persons who are professing Hindu Religion only and the persons not professing Hindu Religion are prohibited and not allowed to function against the forms, customs and usage of such religious institutions."
Still, some Executive Officers ignored the Circular and even the High Court directive to restrict the Non-Hindus from acquiring the contracts for shops and other buildings. Because of total rejection of the directives from the Endowment and High Court, the Hindu groups have gathered in Srisailam demanding that all Hindu Temple heed the GO 426 and follow the letter and spirit of the Order. The GO states that "No person professing other than Hinduism as his religion is entitled to obtain lease or license either through tender-cum-public auction or otherwise." In fact, the High Court also decreed that "the individual should fulfill all the tender conditions" as per the GO.
Agitation of Hindu Groups
It took several Hindu groups, such as BJP, Shiva Shakti, Bhajaranga Dal, and others to organize the protest to make sure the auction would not allow Non-Hindus to bid for the allocation of Shop sites, vacant sites, and contract jobs. Heavy police presence was ordered and many of the protesters were dragged out from the location and were jailed overnight.
There was no reason for Hindu groups to resort to this unfortunate protest if the Endowment Officers were following the Tender Conditions set forth by the Endowments Department.
If these groups have not engaged in these protests against the Executive officer's failure to enforce the Tender rules, you would have seen many Non-Hindus managing the shops and receiving the contracts even today. It is unfortunate that this kind of thing is happening ignoring the government.
Executive Officer Transferred
GHHF and all Hindus should appreciate these Hindu groups for exposing the Hindu bias and appeasement of Non-Hindus, which enables the Chief Secretary to transfer the Executive Officer from the position.We doubt that EO would have been transferred if these protests have not been organized.
There must be an internal investigation to find out how many non-Hindus are working in the Endowments Departments and how many of them are engaged in missionary activities to convert Hindus who are working in these Temples.
GHHF Recommends these measures to Maintain the Sanctity of Hindu Temples:
Investigate and find out how many Executive Officers have allowed Non-Hindus to auction the shops to operate and obtain contracts over the last eight years since the Endowment Circular was issued in 2011.
Publish the names of all Hindu Temples where non-Hindus are operating the shops and vacant sites and are doing contracts.
Identify the number of Non-Hindu employees who are working in Hindu Temples and remove them from their positions forth and inform the public about the number of people removed from their positions.
Also, publish the names of Executive Officers who allotted the shops and awarded contracts to non-Hindus in Hindu Temples.
Endowment Department should take stern action against the Executive Officers who knowingly violated the GOs.
Endowment Department should not allow these Executive Officers to plead innocence. They are highly educated and some of them are even IAS officers. They are not illiterate to plead ignorance. If the contracts have been issued during their time, they should be made accountable and justice should be done. They should be made personally liable for violating the GO 426.
Mere transfer of Executive Officers or any Endowment Officer to another position would not solve the problem. There is no reasonable guarantee that they would stop hurting the feelings of Hindus and stop stealthily encouraging other religious people to engage in missionary activities. In addition to transferring these Executive Officers, Government should file a criminal case against these Executive Officers who allotted these shops to Non-Hindus knowing fully well that was against the Government Orders.
Endowment Department should investigate to find out how many of these non-Hindus have engaged in missionary activities to convert Hindus into their respective faiths.
Develop guidelines as to the punitive consequences of violating the Government GOs and High Court verdicts.
Depending on the level of violation and extent of hurting the feelings of Hindus, the government should impose a heavy fine and/or jail term. They must be clearly stated in the government GOs with no uncertain terms and with no ambiguity.
Article 295A should be utilized by Endowment Department which says anybody who deliberately and intently hurt the feelings of Hindus shall be punished with imprisonment of either description for a term which may extend to three years, or with fine, or with both.
GHHF would request you to take appropriate steps that this kind of fiasco in Sri Sailam would not be repeated. If you need any further information, please contact me at your earliest convenience.
With respects.
Dhanyavad
Prakasarao V Velagapudi PhD
President, GHHF
USA Phone # 601-918-7111
Copy: Hon. Y S Jagan Mohan Reddy, CM
Hon. L V Subramanyam IAS, Chief Secretary
Dr. Man Mohan Singh IAS, Principle Secretary
Smt. R Padma IAS, Endowments Commissioner
Sri Y V Subba Reddy, Chairman TTD
Sri Anil Kumar Singhal IAS, EO, TTD