[GHHF] 28th day of Feeding Cows, Monkeys, and Birds near Anantapur area.
[GHHF] 28th day of Feeding Cows, Monkeys, and Birds near Anantapur area.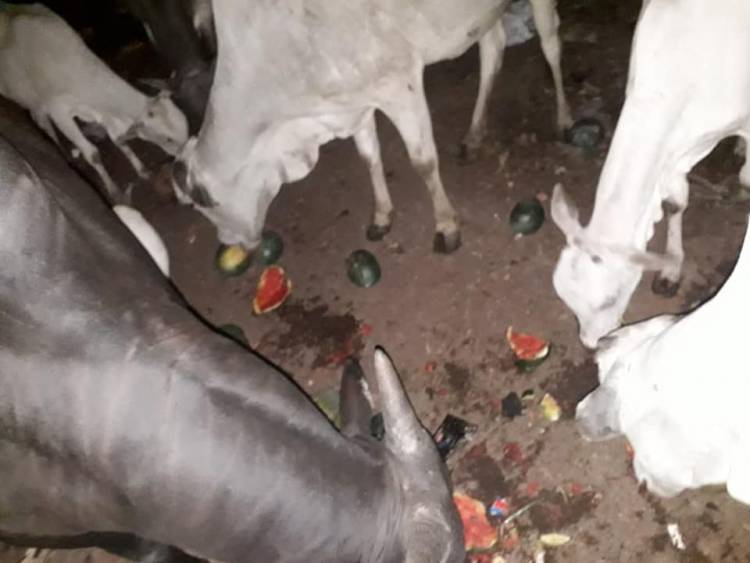 Global Hindu Heritage Foundation is incredibly happy to have the opportunity to serve these innocent animals for the last two weeks. Joining hands with the 1988/91 Degree batch, we are also able to feed these animals in Gooty and R S areas in addition to the Anantapur area. Sri Rama Sharma Kasibhatla, the Board member of Global Hindu Heritage Foundation (GHHF) and who coordinates our activities in Karnataka and other States in India received requests from different sources about the pitiable condition of these animals. are able to provide food and water to these animals.
Many volunteers are going to this village and feeding the cows and monkeys with various fruits and street dogs with biscuits. We were able to get a truckload of fruits and were able to feed them to their satisfaction. Our plan is to feed them daily with these fruits.
ABN news also covered the event. The video is attached.
DONATIONS:
We would appreciate your donation to continue annadanam to the needy, poor, and tribals as well as animals.
Sponsor ONE day meals for $250.
PayPal Method: To donate visit our website. Click on the Donate button, then press the Purpose category and select Annadanam Category or General Donation category.
By Check: Or you can send a check payable to:
GHHF, 14726 Harmony Lane, Frisco TX 75035. It is tax-deductible.
For more information, call
601-918-7111