Activities and Accomplishments of GHHF - India Trip December through February 2019
GHHF Activities and Accomplishments of our India Trip December thru February 2019
Namaste:
These are some of the activities we have conducted or participated during our trip to India. We spent more than ten weeks going to different places, attending different programs, releasing a book on "Ambushing Hinduism", and meeting many officials and dignitaries. We spent considerable time in Tirupati to establish Savetemples Office. Very fortunate to have Prasad Yalamanchi and his wife visit our office in Tirupati. I thought of sharing our activities for your information.
Ram Sharma Kasibhatla, who is our Board member and who lives in Bengaluru has been a great help in arranging and coordinating our travel plans and also scheduling some of our activities during our visit to Bharat. He made our trip comfortable and productive.
Swami Paripoornananda campaigned in eight constituencies. I was fortunate to accompany him for about 12 hours.
On December 2, Swamiji campaigned in eight places. There was so much excitement and enthusiasm. He attracted a huge crowd where ever he went. I was fortunate to attend all these campaigns that started at 11:00 am ended around 10:00 pm. He went by chopper to Yadagiri and Chevali. Visited Santoshnagar, jubilee hills, Rajendernagar, Malakpet, and other cities.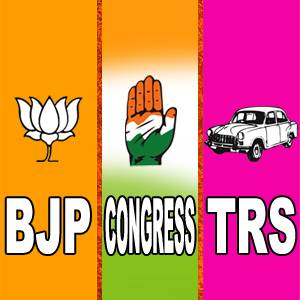 December 6
BJP manifesto for Loka Kalyanam (Public Welfare); Congress Party and TRS Manifestos for Minority Kalyanam (Muslim and Christian Welfare) for Telangana Elections.
https://www.savetemples.org/post/bjp-manifesto-for-loka-kalyanam-public-welfare-congress-party-and-trs-manifestos-for-minority-kalyanam-muslim-and-christian-welfare-for-telangana-elections/597?fbclid=IwAR3-Ejd_RKmdNWH8Xc4ilYsPqUq48INXijc2x7f-NIRIbFt6j9sYo5JFUAU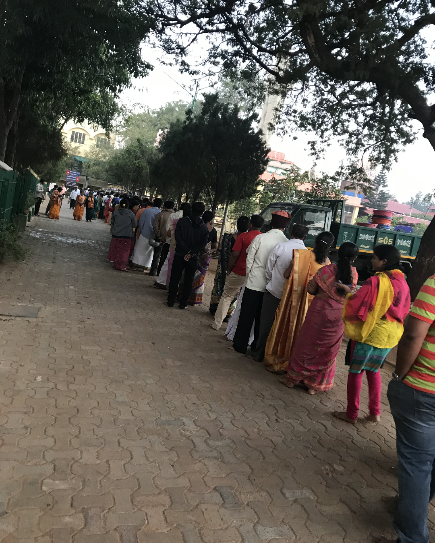 December 18
Gita Jayanti and Vaikunta Ekadasi at Ganapathy Sachchidananda Ashram On December 18. More than 120,000 people had Uttaradwara darshan (darshan from north entrance). Lines started forming by 4:30 am and darshan ended at 11:30 pm
At 10:00 am all 700 verse of Gita were chanted by about 100 devotees.
In the evening Sri Swamiji announced SGS post installation exceeded 200,000 and it is being read in 186 countries.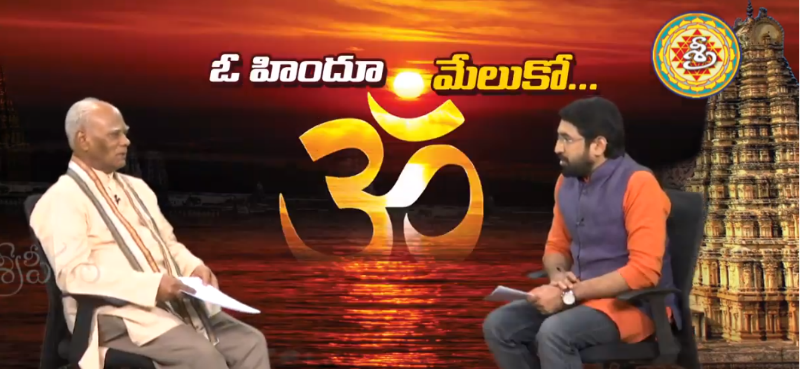 December 22
Hinduism in the USA: Prakasarao Velagapudi was interviewed on "O Meluko Hindu" on Bharat TV on December 10th and was shown on December 22.
Prakasarao Velagapudi spoke on the spread of Hinduism in the USA starting with Emerson, Thoreau, and Whitman until rent times. He traced the contribution of Swami Vivekananda, Sri Swami Rama, Paramahamsa Yogananda and a multitude of Swamijis. It was discussed on Bharath TV In Hyderabad.
Another one on the Status of Women in the Bible was shown in June 2018. https://www.youtube.com/watch?v=8Jqwx6C4nqM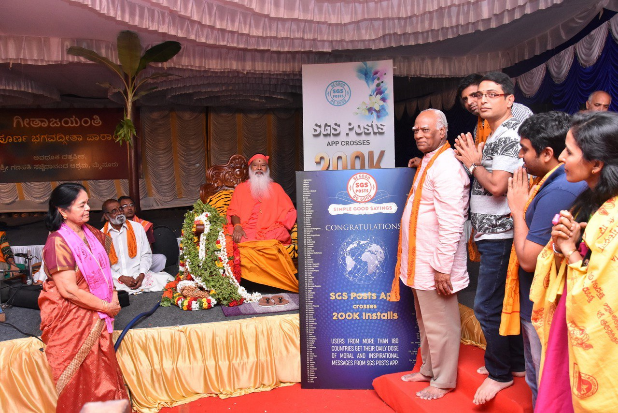 December 16-23, 2018
Datta Jayanti celebrations at Sri Sachchidananda Ashram
Sri Swamiji conducted Datta Jayanti for three days and sang Bhajans. He also announced that SGS post registrations exceeded 200,000. His messages are being read in 186 countries
He also inaugurated the musical wing in Vishwamji museum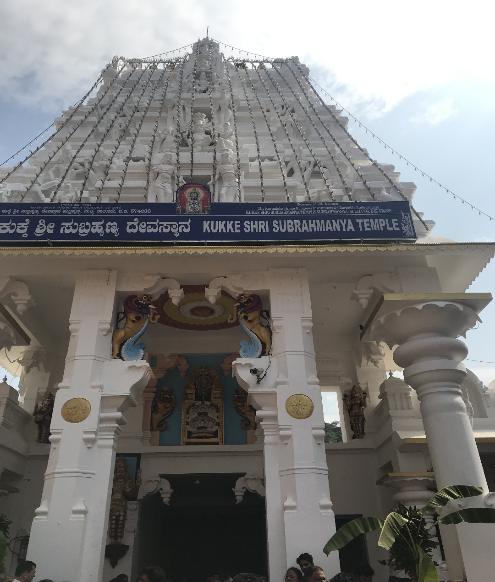 December 24-25
Visited Kukke Subramanya Swamy, Dharma Sthala, Upidi Sri Krishna Temple, Sringeri Sharada Peetham and Kolluru Temple. Sri Sugunendra Teertha Swamiji suggested that we visit His Ashram. We spent one night and visited the Ashram until noon. In Sringeri, we were fortunate to have darshan and a short interview with Jagadguru Shankaracharya of Sringeri who blessed our activities.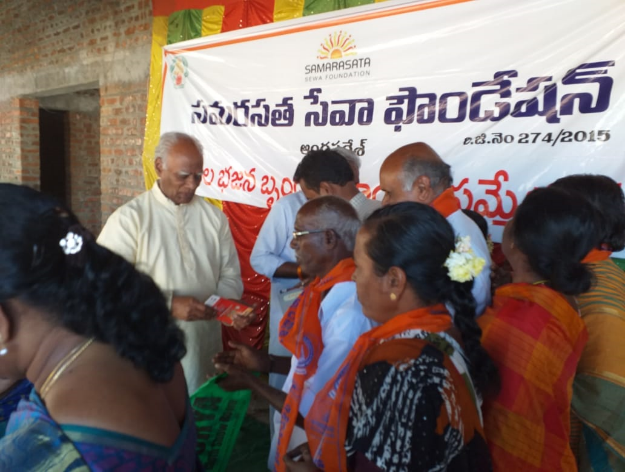 December 26, 2018
Addressed to 28 Bhajan Mandals in Valmikipuram near Tirupathi on December 25
Nearly 500 bhajan Mandali members came from different villages for a day-long event sponsored by Samarasata Seva Foundation. To create a sense of identity among villagers, bhajan Mandals were established to encourage singing Bhajans in order to promote Dharmic culture.
I spoke about the spread of Hinduism in the USA and the importance of singing Bhajans by tracing the Varkari saints and how to continue the tradition in villages.
On this occasion, GHHF publication on Ramayana and CD were presented to the coordinators of Bhajan Mandals.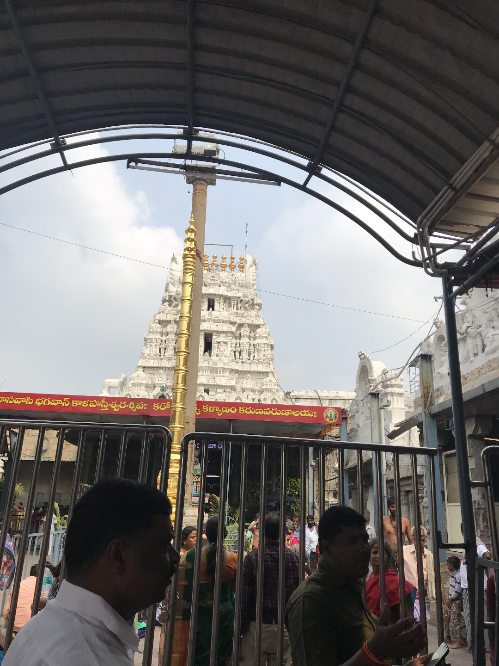 December 27
Visited Sri Kalahasti Siva Temple which is considered as Vayu Linga – wind. It is considered one of the Jyotir Lingas. Some people consider it as Dakshina Kasi and also as Rahu Ketu Kshetra. Many people visit this Temple to do Sani Pujas. The Temple was built around the fifth Century while Raja Gopuram was built by Sri Krishna Devaraya in the 12th century. Unfortunately, due to total negligence and indifference, the government did not do the needed repairs for a crack on the Gopuram. As a result, it was collapsed about eight years ago. Nagarjuna Cements volunteered to build this Raja Gopuram and completed it about two years ago. This Temple is about 40 kilometers from Tirupati.
Visited 2,200 old Parasurameswara temple at Gudimallam near Tirupati
This temple, which has a history of 2200 years, is located in a small village. In Garbhagudi, one finds a Shiva Linga with Lord Brahma in demonic form as Lord Shiva is seen as standing on the shoulder of a dwarf. Garbhagudi is at a lower level than the Ananda Nilayam. It appears that on the day of Dakshinayana and Uttarayana, sun rays fall on the bottom of Shive Linga. The rays first fall on the Bali Peetham and then they go through holes in the window, fall on the horns of Nandi and then on Shiva Linga in Garbhagudi. There are many such stories surrounding this temple.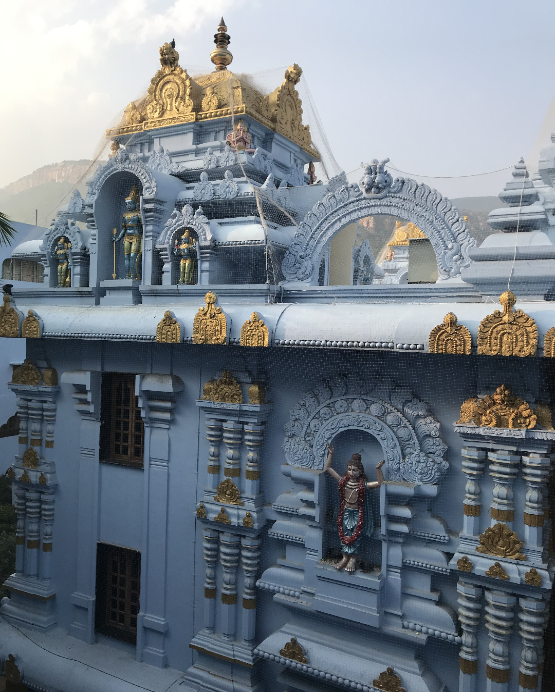 January 1, 2019
We visited ISCON Temple in Tirupati and had a darshan of Lord Krishna and Radha. It is a beautiful Temple to see and admire the architecture. It is believed that Sri Srila Prabhupada visited Tirupati in 1974 and expressed his interest to TTD and Endowment Minister in Building this Temple. TTD provided a piece of land at the foothills of Balaji Temple. They maintain Goshala and Veda Patashala. They have good Guest House for people to stay. We had the opportunity to meet one of the Swamiji, Sri Leela Praraya Dasa, who explained about the history of the Temple.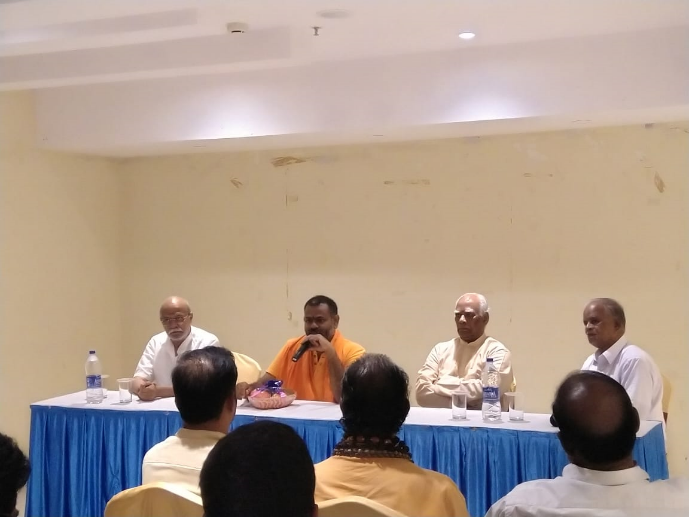 January 2-3
Sri Swami Paripoornananda Came to Tirupathi to mobilize people to participate in Savetemples movement and held a meeting in Bheema's Restaurant. More than hundred special invited activists gathered and pledged to support our activities. Sri Swamiji spent more than 5 hours in Savetemples office meeting various people seeking their help. Hari Tummala, Giri, Reddappa have actively participating in these activities for the last few months. All these people pledged their support to the movement.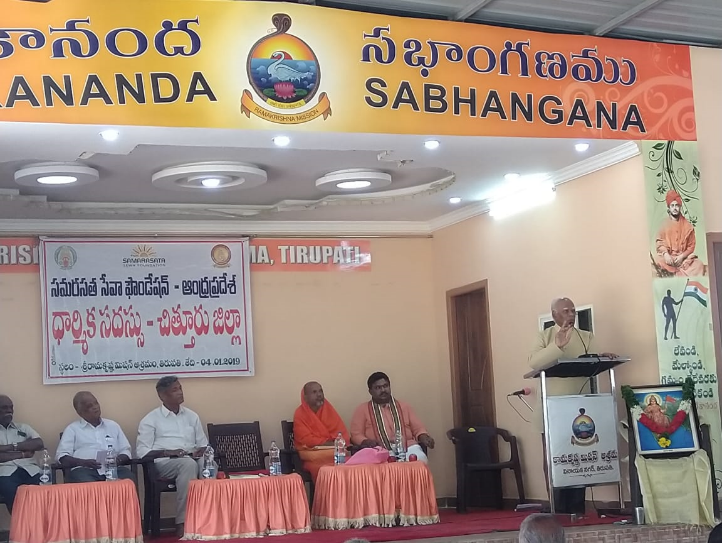 January 4, 2019
Attended Samarasata Seva Foundation function on Jan 4
Under the aegis of Hindu Dharma Parirakshana Trust, Samarasata seva Foundation organizes all Mandal coordinators of Chittoor district to overview the activities and accomplishments on January 4, 2019, at Ramakrishna Mission facility in Tirupathi
Discussed the future course of action and passed resolutions expressing appreciation for those involved.
Spoke about the status of Dharmic activities in the USA and our efforts to free Hindu temples from the government control in India
Spoke at Virat Hindustan Sangam Conference Dharma on Jan 6 in Mumbai
Dr. Subramanian Swamy organized this meeting in Mumbai with the help of Virat Hindustan Sangam members. Dharma wiki was released to portray the factual Hinduism and refute the false information. I had a chance to speak on the spread of Hinduism in the USA.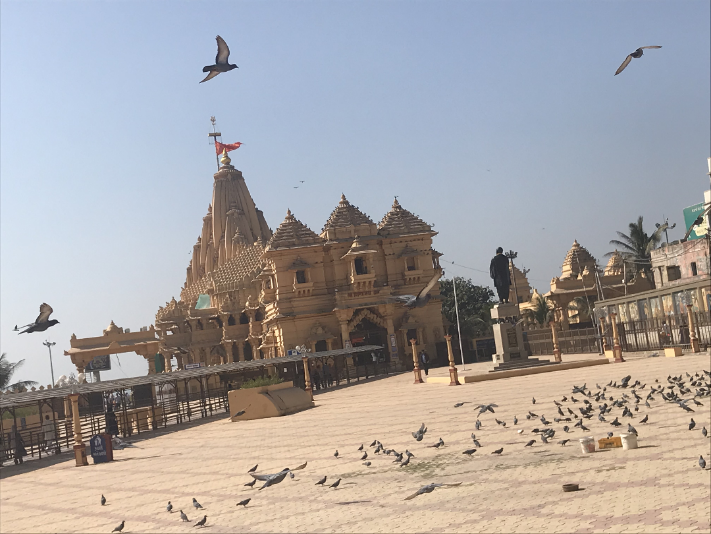 January 8
Visited Somnath temple - one of the jyotirlingas
As many of you are aware that this temple was looted and destroyed by Muslims several times. Every time it was rebuilt, it faced the same state. After Independence, Vallabhai Patel rebuilds the present structure. Dr. Rajendra Prasad inaugurated the temple in spite of objections from Nehru at the time.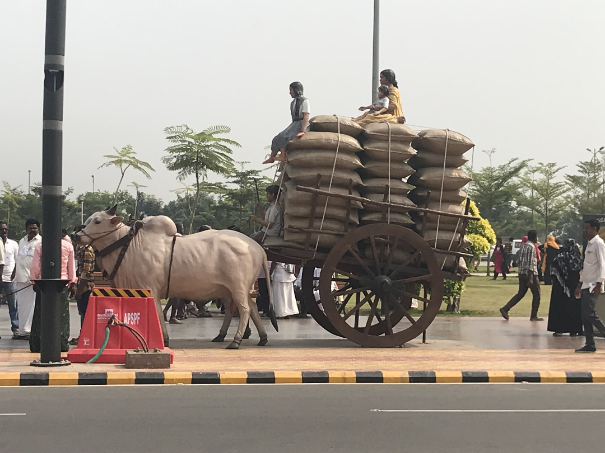 January 12
Met Dr. Man Mohan Singh, the Principle Secretary for Revenues in the Secretariat at Velagapudi. Spent about 15-20 minutes talking about our mission and see how we can work to maintain transparency and proper use of Temple money. Also talked to Sri L V Subrahmanyam, former EO of TTD.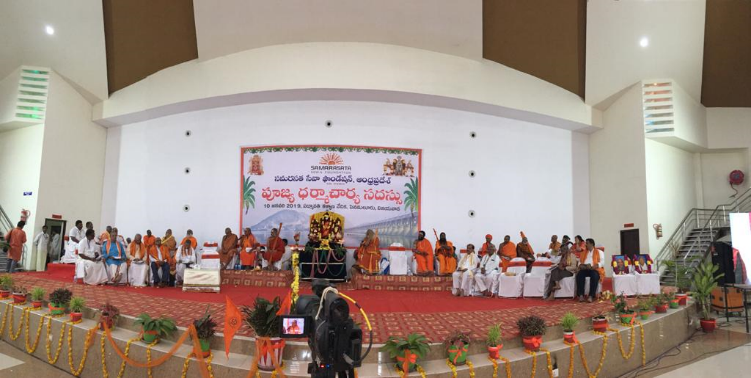 January 13
Dharma Acharya Sadassu In Vijayawada on Jan 10th
More than 50 Swamiji's and Hindu leaders were invited to Dharma Acharya Sadassu to talk about various issues affecting Hinduism. Each leader was given 15 minutes talk about their attitudes and suggestions to overcome menace caused by Christians and the government. I spoke about the need to I still pride among Hindus and how to confront Christian attack. Identified a number of deceptive conversion practices designed to lure the innocent Hindus.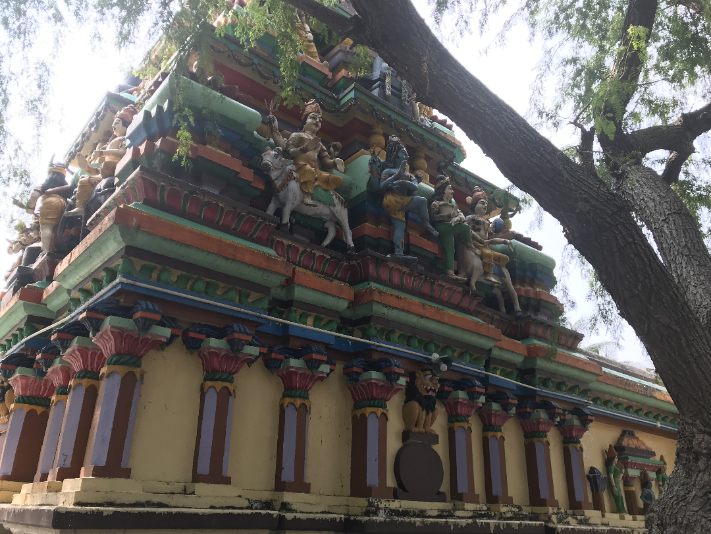 January 14
Visited historical Lord Shiva temple in Gurazada, AP on January 12
Lord Shiva temple in this village has more than 150 years of history. A per the legend, somebody had a dream where Lord Shiva told him that he was residing between two Jammie trees and wanted him to find and build a temple. As per the dream, he found Shiva Linga between the two trees. We can see these two jammy trees.
We visited the family who is preserving and maintaining the temple for more than 150 years.
This temple faces west instead of east. As you can see it needs renovation.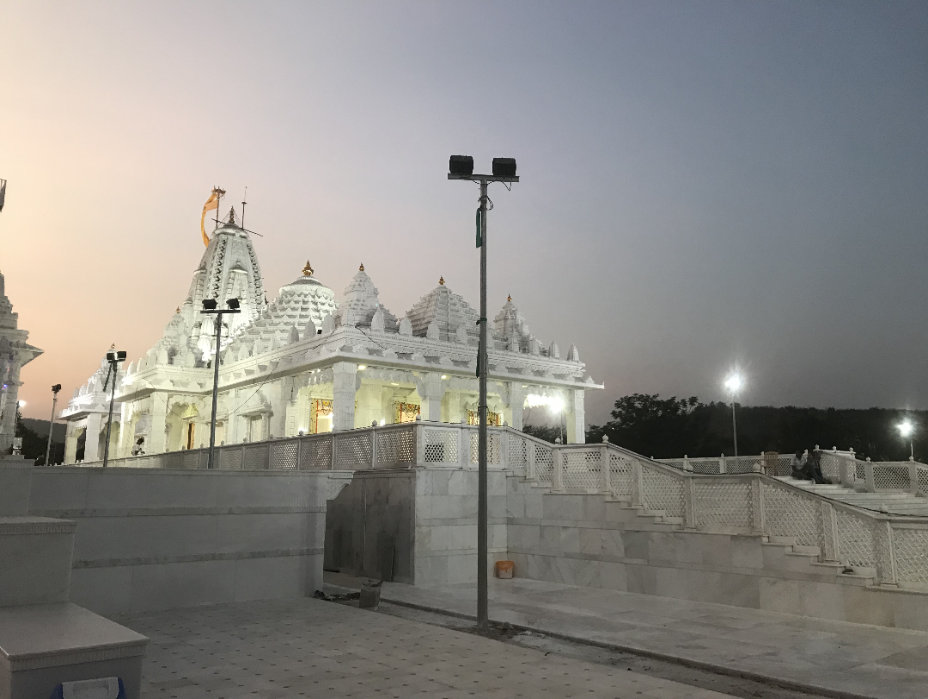 January 20
Visited Sri Siddheshwar Tirth, Brahma Rishi Ashram in Tirupati
We visited two temples-built side by side - one is Vishnu temple, the second one Jain Temple. Both of them are built with white marble. Sri Gurumaharaj is the founder of this Ashram. He recently visited Karya Siddhi Hanuman Temple in Frisco and also attended Diwali Mela in Dallas in 2018. It is worth visiting these beautiful temples.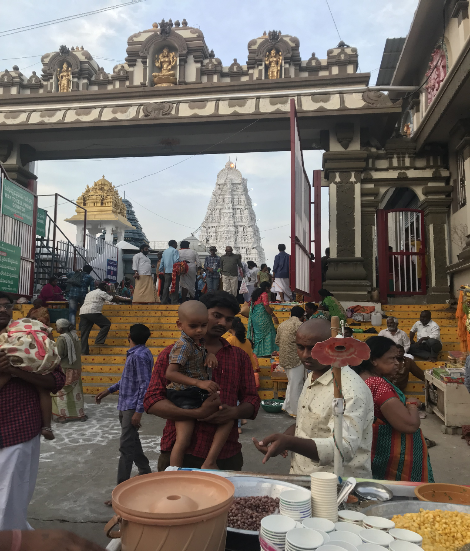 January 23
Visited Goddess Padmavati Temple in Tiruchanur
Goddess Lakshmi was born to Akasaraju and married to Lord Venkateswara. Lord saw her for the first time on the lotus flower in a Padmasarovaram (Temple lake). Padma Puranas described this temple in great details. Thousands of people visit every day. There is a Surya Temple facing the lake.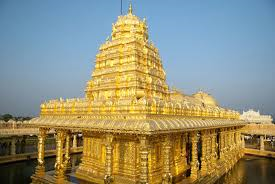 January 25
Visited Golden Temple in Vellore
Eight of us visited Golden Temple in Vellore and spent about eight hours. Public Relations Officer conducted a detailed tour explaining the origin of the temple and history of Sri Narayani Amma. Maha Lakshmi or Lakshmi Narayani is the presiding deity. They also had a Balaji temple built two years ago.
We attended the Puja performed by Amma. Following that Amma spent about 15 minutes talking to us and he blessed the activities of GHHF. He said not to worry too much about the danger to our Sanatana Dharma. We presented two of our books to Amma- Sadguru Tattvam and Reviving Hinduism.
He inquired about Sri Ganapathy Sachchidananda Swamiji and remembered his visit to Datta Peetham.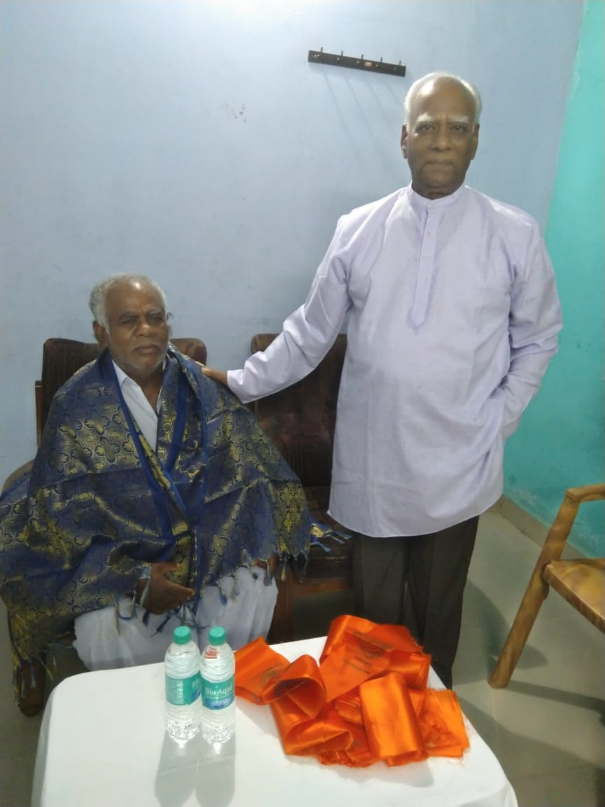 January 27
Four Hindus shared their experiences as Christians and how they came back home to Hinduism
Although we talk about the deceptive practices of Christians and how they trap the vulnerable Hindus, Global Hindu Heritage Foundation wanted to have first-hand information from the reconverts. We have videotaped their experiences of being Christians, how they were trapped by the Christians, how they were treated, how they demeaned Hinduism, how they exploited them financially, how they made false claims and others.
Their experiences are revealing to share with others who are still trapped by Christians missionaries. GHHF will be sharing their experiences in their own words very soon via recorded videos.
GHHF honored them with shawls, Bhagavad Gita and Lord Venkateswara picture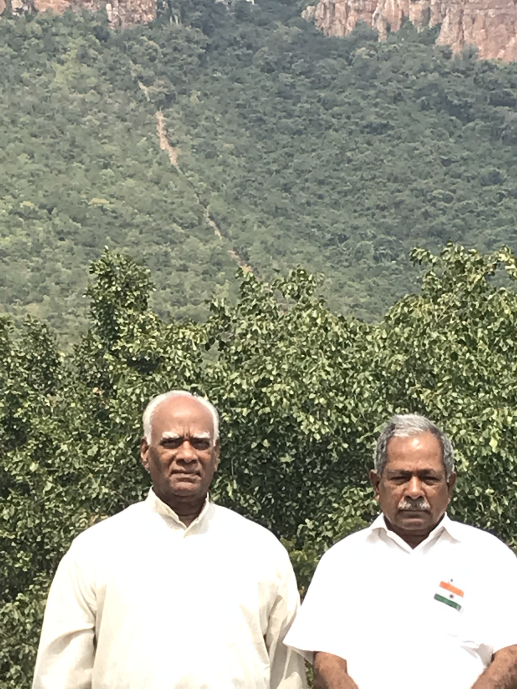 January 29
Visited Bharatiya Vidya Bhavan In Tirupati
It is located in one of the most beautiful locations in Tirupati that faces Lord Venkateswara Rajagopuram on top of the hill. Also, one can see the path where devotees climb the hill to have darshan.
Bharatiya Vidya Bhavan engages in numerous social, cultural, religious and educational activities. They have more than 2500 students enrolled in different classes. I met with Sri Satyanarayana Raju who is in charge of the Bhavan. It is worth visiting to see the mere beauty of the location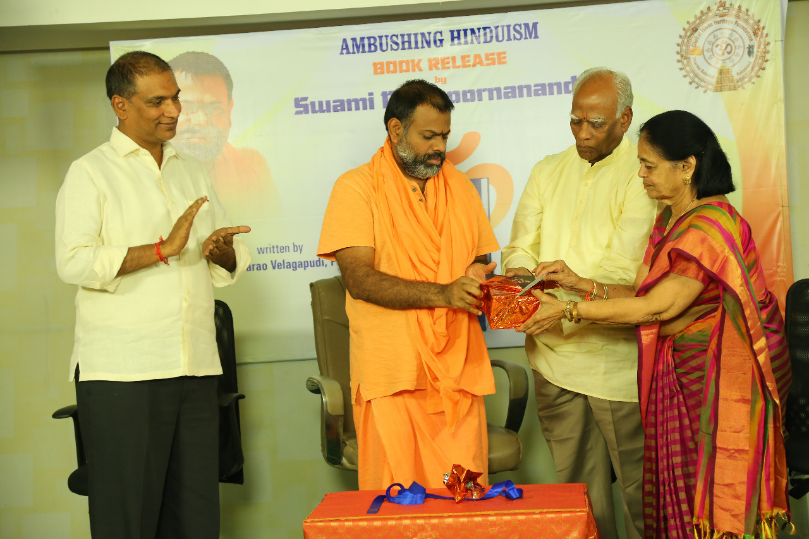 February 2, 2019
"Ambushing Hinduism" book written by Prakasarao Velagapudi was released by Swami Paripoornananda in Bharat Today Building in Hyderabad.
On February 2, "Ambushing Hinduism" was released by Swami Paripoornananda in Hyderabad. G. Valliswar served as the Master of the ceremony. Before the release of the book, I spoke about the mission of Global Hindu Heritage Foundation to free Hindu Temples from the government. Soon realized there was a threat to the very existence of Hinduism. It is being attacked from different directions from Christians, Islam, Hindus, Media, secularists, and academia. I mentioned that Hindus may be more dangerous to Hinduism than other groups. Government officials have become the champions of Christians and Muslims.
https://www.youtube.com/watch?v=QhD4rk1priw&t=25s
Swami Paripoornananda spoke about the Hindu politician's evil-mindedness. They are becoming more dangerous to the existence of Hindu interests. He mentioned how Arabs, Muslims, and British people came and destroyed our civilization. He also mentioned that the present political system is more threat to the very survival of Hinduism. He asked everybody to read the book to know the anguish of Prakasarao and make concerted efforts regularly rather than addressing the issues.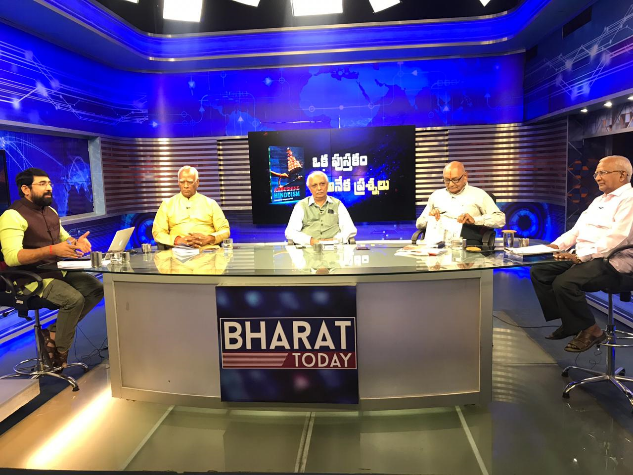 February 4
Panel discussion on "Ambushing Hinduism" on Bharath TV
On February 4th, a panel discussion was conducted at Bharat TV. Sri I Y R Krishna Rao, former chief Secretary and ex EO of TTD, Padmasri T Hanuman Chowdary and Dr. Remella Avadhanulu Garu assessed the book and talked about the relevancy for the present time. One-hour program was anchored by SAI Krishna
https://www.youtube.com/watch?v=1UqsCx-9Vsw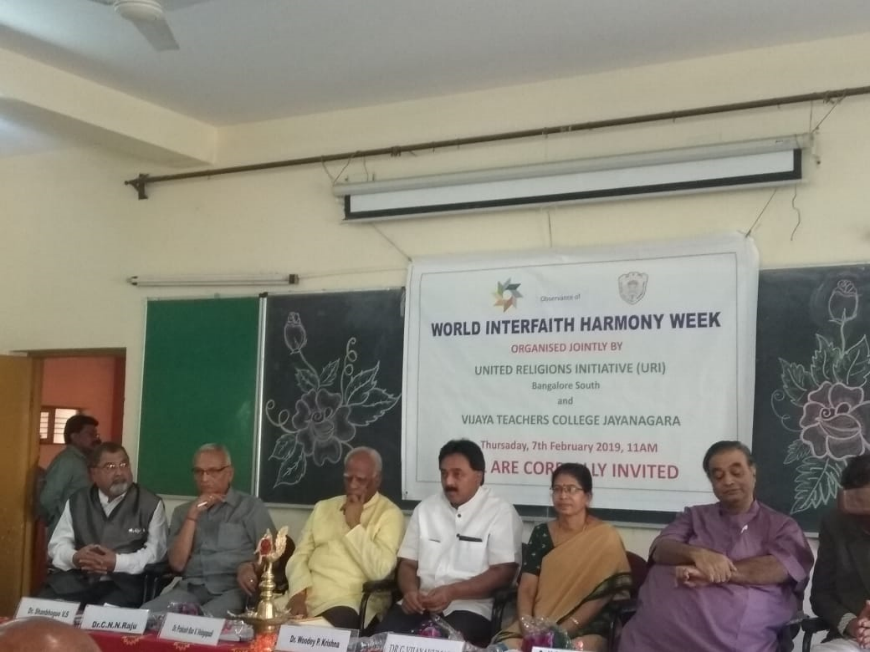 February 7
Spoke at World Interfaith Harmony Week in Bengaluru
At the invitation of Dr. Yogi Devraj on behalf of World Interfaith Week, I spoke about the reasons as to why there is more chaos than harmony. Leaders from Christian and Islamic faiths talked about harmony and how every faith should work together to maintain love and peace.
I mentioned that Religion of Peace (Islam) and Religion of Love (Christianity) are causing more problems, creating divisions, breaking up families, adopting deceptive practices, advocating terrorism and creating more terror than Harmony. Unless conversion stops, society will experience more hatred and terror. Hindus never had any problems with Jews because they never imposed their religion on Hindus while the other two Abrahamic religions determined to convert India into either Christian or Islamic religion.
Interfaith dialogues must discuss the real problems rather than hiding behind the real problems facing India.
Met with FIVE activists
Following Interfaith Harmony meeting, Rama Sharma arranged a meeting with activists who are doing a yeoman service to protect Hindu Temples and Hinduism. Smt. Aruna, Hala Ramesh, Ramesh, Naidu and others met for more than two hours and discussed on repeating some of the activities GHHF has done in Andhra Pradesh and also take up tasks unique to Karnataka. They have identified few activist Advocated who will help them to challenge the government on its discriminatory policies toward Hindu Temples.
February 8
Visited Sri Srinivasa Raju, who is the founder of Vyasa International High School. He invited five other interested people and spent 90 minutes at his house talking to him about our future activities in Karnataka. Dr Sreeram, Dr Adinarayana and others joined our discussion.
February 9
Spoke about the dangers Hinduism is facing through different organizations from diverse directions on Dharma Peetham Program in Bhaarath TV. https://www.youtube.com/watch?v=uH_RtEtxANs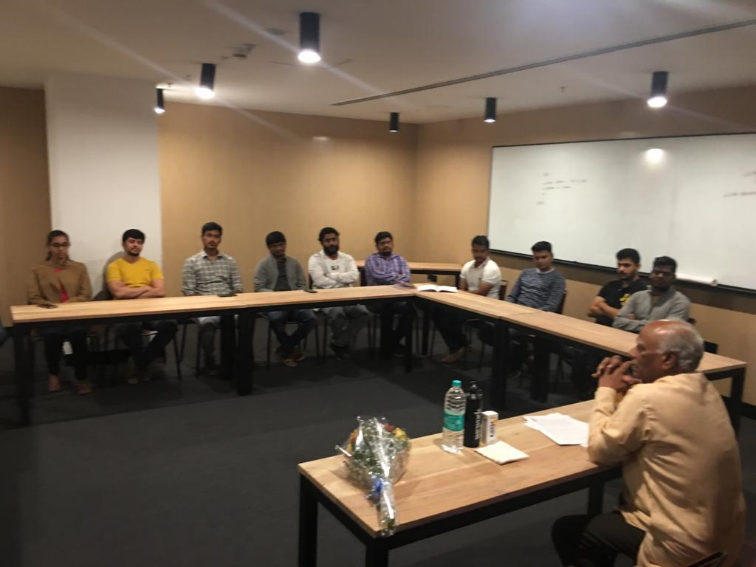 February 10
Ancient wisdom and business management seminar
The day before I left India to the USA, I was invited to speak on the impact of ancient wisdom on the business management in Bengaluru.
Ram Sharma, the Board member of GHHF, organized this seminar that was attended by more than 50 IT workers. We discussed about 15 top USA business people who encourage meditation to beat the work stress in their own offices and also the number of executives who practice yoga and meditation. We talked about the impact of Bhagavad Gita, Kautilya's Arthashastra, Vedas and Patanjali's Yoga Sutras on the work ethics and success of the companies. Also, how music and chanting can boost energy to be more productive. A number of studies were cited to prove how meditation impacted the increase in efficiency and productivity. Also, how meditation can help maintain Stithipragna to preserve the energy and help focus on the larger goal.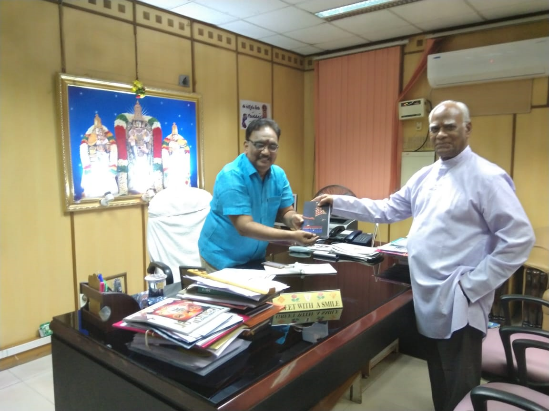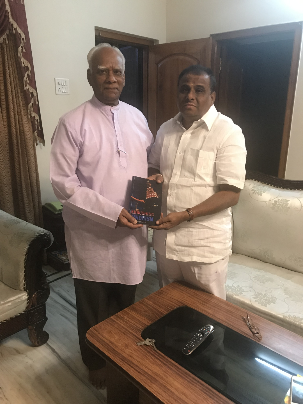 Officials we met during our India Trip
Sri Mukteswara Rao, ISA (Retired). He is in charge of Swetha program where they developed a manual to train Dalits as Priests in the Temples built in Dalit Communities. He is doing a great job in teaching and training the Dalits.
Sri Raghu of Bheemas Restaurant. He is one of the pillars of Hinduism in Tirupati. He coordinated Sri Paripoornananda Swamiji's visit I Tirupati – January 2-4.
Sri Myna Swamy who is the Editor of Temple Times. He has done a great job in highlighting the importance and significance of historical and ancient Temples.
Sri Satyanarayana Raju who heads Bharatiya Vidya Bhavan organizing the activities of Sanatana Dharma. More than 2500 children attend Vidya Bhavan School.
Dr. Muralidhara Sastry, VC principle of Sanskrit College. He also attended our Dwaraka Tirumala Conference in 2017. He is developing Certification requirements for people who work in Hindu Temples to make sure that are aware of the richness of Hinduism and Hindu Temples.
Pola Bhaskar

, IAS who was the Joint EO spent a few minutes talking about TTP plans to conduct Summer School in the USA this Summer. He would let us know to find out if we can also be part of that proposed plans. Since that time, he was transferred to another section.
Sri Anil Kumar Singhal met with me and talked briefly about our activities. He acknowledged receiving GHHF correspondence and he is aware of our mission.
Sri Ajay Kumar Varma, one of the founders of Devlok which a divine project is where all Hindu Temple traditions, customs, deities, and architecture will be presented to represent a theme that is spiritual and religious. It is being planned on a grand scale.
Sri Sasrudananda Swami, Pontiff of Sri Lalitha Peetham in Tirupathi. He built a beautiful Temple. Replica of Ashtalakshmi Temples is constructed. He came to GHHF conferences three times so far. Very active and spiritual.
Sri Swami Anupadananad Swami of Ramakrishna Mission in Tirupathi.
Sri Subramanyam Yadav, who is part of GHHF for the last ten years in Tirupati
Sri. Bhanu Prakash Reddy, BJP activist who was a Board of Trustee for TTD
Sri Sundara Murthy RSS activist
Panelists who discussed the book on Ambushing Hinduism
Padmasree T Hanuman Chowdary
Sri I Y R Krishna Rao, Ex-EO of TTD
Dr. Remella Avadhanulu.
Ex-Christian Esther
Her family converted to Christianity when she was about seven years. She practiced Christianity for nearly 25 years. It is a very fascinating and gripping story as to how she converted to Christianity and how she came back home.
She agreed to do four segments of her story in English. We will share her videos once they are available. She will be coming to the USA in April-May. We will plan her speeches in different cities.
Please subscribe to Save Temples Telegram channel at https://t.me/savetemples