GHHF Sri Swami Paripoornananda returned to Hyderabad with fanfare and jubilation.
Mark me, then and then alone you are a Hinduwhen the very name sends through youa galvanic shock of strength.—Swami Vivekananda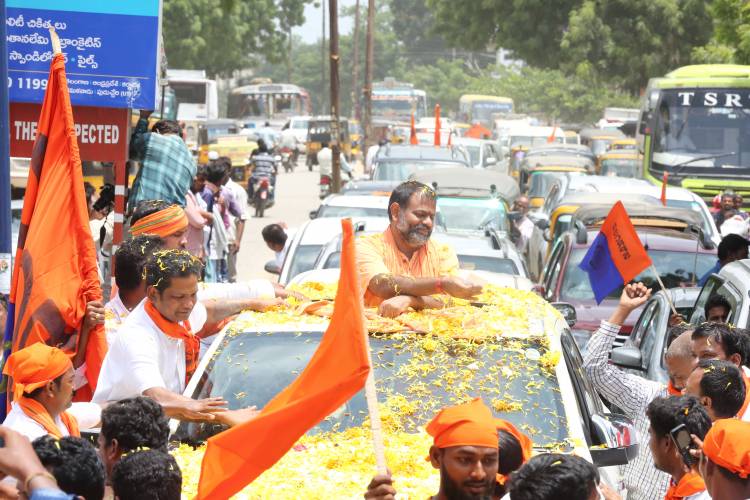 Sri Swami Paripoornananda offered prayers at Kanaka Durgamma Temple on Indrakeeladri hill in Vijayawada on September 4 and started his journey to return to Hyderabad. He was given a huge welcome along the way in different cities such as Kodada, Suryaraopeta, Chityala, Choutuppal and others. Swami stood through the sunroof of an SUV and greeted the members along the highway. All along the routs people were waving saffron flags, shouting Bharatamataki Jai. The rally was named Dharma Jwala Yatra.
As many of you are aware that Global Hindu Heritage Foundation (GHHF) has been actively supporting the efforts of Swami Paripoornananda for years to bring needed changes in the society to make it a Hindu Nation. We have supported Swamiji for his fight to get the Exrernment Order cancelled. GHHF has written letters to Hyderabad Police Department, Chief Minister and Prime Minister of India about the denial of fundamental rights to Hindus. GHHF is very happy that High Court of Telangana cancelled the Externmnet Order paving the way for Swamiji to return to Hyderabad.
Speaking to the media in Vijayawada, Sri Swamiji said, "Soon after I was externed from Hyderabad, I came to Vijayawada and had darshan of Goddess Kanaka Durga. Once again, I am leaving for Telangana after praying to the Goddess for the well-being of devotees in both the Telugu states. My life is dedicated to 'Hindu Dharma', and I will go to any extent to protect it."
People lined up to welcome Sri Swamiji along Vijayawada and Hyderabad road. Women expressed their joy by doing Kolatama – a kind of dance. Youth were enthusiastically riding the bikes. Police were deployed by both Andhra Pradesh and Telangana for security purposes.
"Unlike people who reached the TRS Pragati Nivedhana Sabha by vehicles arranged by the ruling party, people came voluntarily to see Swamiji. It speaks a lot about the kind of leader he is going to be," said NVSS Prabhakar, Uppal MLA, who accompanied the Swamy from Vijayawada.
By the time Swami reached Hyderabad, rally led to a huge traffic jam from outskirts of Hyderabad. Speaking to the huge crowd, Swamiji said that he will trek the whole state to unite all the Hindus and make sure that every Hindu will be proud to say that they are Hindus. This is a fight for Dharma. This is a fight for Bharata Mata. He will go to any extent to preserve the Hindu Dharma.
Following are the links to English newspaper coverage of the event:
http://www.newindianexpress.com/states/andhra-pradesh/2018/sep/05/paripoornananda-prays-at-durga-temple-brings-hyderabad-to-a-halt-1867770.html
https://www.thehindu.com/news/cities/Hyderabad/swami-paripoornananda-gets-a-saffron-welcome/article24866579.ece
https://m.timesofindia.com/city/hyderabad/hyderabad-bjp-looks-for-adityanath-type-of-leader in-paripoornananda/articleshow/65664726.cms
https://www.deccanchronicle.com/nation/current-affairs/050918/hyderabad-tension-over-welcome-to-swami-paripoornananda.html
https://newsjizz.com/18884-hyderabad-bjp-is-looking-for-the-adityanath-type-leader-in-paripoornananda.html
https://trending360.in/2018/09/05/swamy-paripoornanda-welcomed-in-hyderabad-with-fanfare/
http://telugu.videosamachar.com/play/swami-paripoornananda-returns-back-to-hyderabad-after-expulsion-tv5-tv5newschannel