Bharath Today TV interviews Prakasarao Velagapudi​​​​​​​ on its 5th Anniversary.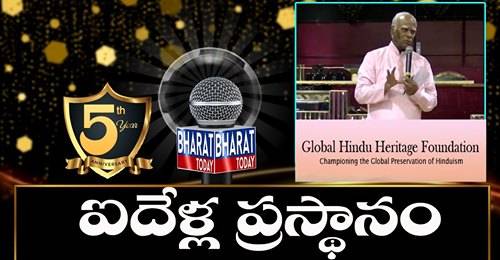 I was asked to give my impressions about Bharat TVs role in preserving Hindu Dharma and protecting Bharata Mata. I explained how Global Hindu Heritage Foundation associated with Sri Swami Paripoornanda Saraswati, how we worked closely on Vakulmata Temple, Islamic University, Dalit Community and Ratha Yatra.
Talked about how we organised Sri Swamiji's programs in USA, discussed about starting TV station if Modiji gets elected in 2014, and our personal association with Sri Swamiji.
I want to express my appreciation for his commitment and dedication to be the spokesperson for Hinduism via TV station.
GHHF wishes good luck as the TV Station embarks on 6th year programming.
This interview was in Telugu.