[GHHF] Sale of Hindu Temple Lands and Recommendations to Protect Hindu Temples
[GHHF] Sale of Hindu Temple Lands and Recommendations to Protect Hindu Temples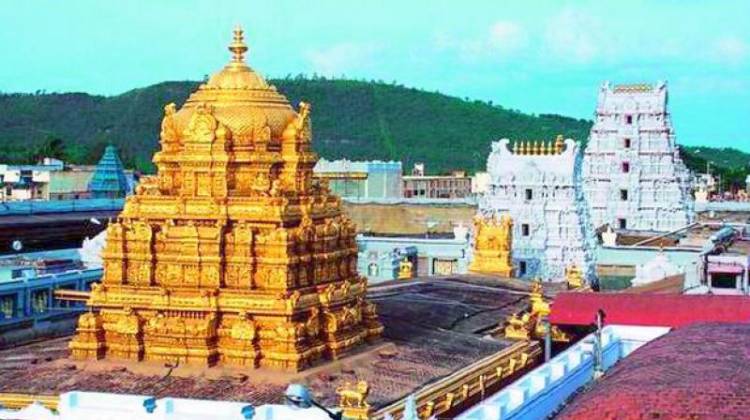 May 28, 2020
Honorable Chief Minister Y S Jaganmohan Reddy
Amaravati, AP
Dear Sri Jaganmohan Reddy Garu:
Sub: Sale of Hindu Temple Lands and Recommendations to Protect Hindu Temples
Global Hindu Heritage Foundation / Savetemples Organization is very much concerned about the sale lands in Tamil Nadu. We write this letter only in the interest of protecting the Hindu Temples and we have no other interest. Transparency and accountability are pivotal in keeping the trust among the devotees.
As you are fully aware of the fact that TTD passed a resolution On April 30, 2020 to sell what they call "immovable properties which are viable and not maintainable by TTD" and hence decided to conduct public auction. This Resolution was released on May 23rd. The whole Hindu Community was thrown into chaos, confusion, and contempt. There is a widespread protest to stop the sale.
If devotees donate land or gold ornaments, no government and not even legal system has any authority to dispose of them. It absolutely wrong to call Temple lands as Temple properties or assets. They are used only to serve the Hindu Temple needs. Only when the lands belonging to an individual are called Properties. Lands belonging to Hindu Temples are called Manyams and Kainkaryalu.
What is manyam? It means the one that deserved to be respectful, honored, and deferential. When we say Manyasree Lakshmi, Padmavati, Anasuya etc.; we are approaching that lady with utmost respect. It is like a monument that needs to be protected. It should not be disrespected by disposing of the most respectful lands.
What is Kainkaryam? It means once a land is donated it is considered Kainkaryam. It cannot be given back or disposed it off. It is permanently placed in the hands of the Gods and Goddesses. Nobody has any legal authority over this land.
Hence these lands cannot be auctioned or cashed out to be deposited in the treasury. Not only they have to be protected, they need to be multiplied. In fact, any material objects donated by devotees should not be sold or cashed out. For example, many devotees donated many gold ornaments, diamonds, rubies, pearls etc. If we have so many gold ornaments that are used for many years and that are unusable, we do not have authority to sell them. Since these are gold ornaments, you have the responsibility only to convert them into Gold bars and preserve until they can be used for decoration purposes.
Argument that Temples Lands cannot be guarded
The argument that we are not able to stop the protect the Temple lands due to the fear of encroachment. This is basically a false argument to justify the sale of lands.
Many politicians and businessmen have properties all across the state and also in other states for a number of years. How are they protecting their lands? Invite all the politicians from different parties and find out how they are protecting their lands from encroachment. They would know the answers.
Many Churches have thousands of acres and they own more property next to the Central government. They are the second largest landowners in India. They do not have this problem. Why only Hindu Temples have this problem of encroachment.
Every Hindu politician knows the answer. It will not be any surprise to find out that almost all the people who encroached the Hindu Temple lands and Ashram lands are Hindu leaders. Ever government and every Hindu politician knows about it.
Similarly, all the undersold Temple lands are also bought by Hindus only. All the Temple properties bought from the government are also Hindus.
Let us publish the names of all the lands either sold, undersold, or encroached over the last several years
Recommendations to Protect the Hindu Temples
GHHF has written several letters over the last 15 years suggesting a number of recommendations to ensure transparency, protect the Temple lands across the state and safeguard the gold ornaments and precious stones. Unfortunately, very few people responded. The government officials and administrative personnel may be thinking that it is not their responsibility to be accountable to the devotees.
When we say Hindu Temples, they include TTD and all the Temples listed in the Department of Endowments in Andhra Pradesh.
Hindu Temple Lands
1) How many acres of land belong to Hindu Temples were on the Department of Endowment records in 1990 or whenever Hindu Temples were taken over by the government?
2) How many acres of Hindu Temples lands were sold over the last 30 years or longer?
3) How many acres of Temple lands were undersold – sold below the market value?
4) Publish the dates of Hindu Temples sold and whom these lands were sold.
5) How many acres of lands were encroached or illegally occupied?
6) Publish the number of acres encroached and the names of the people who encroached these Hindu Temple lands.
7) How many acres of lands were donated to different educational and other purposes and the donation dates?
8) How many acres of lands were donated to non-Hindu institutions or individuals?
Hindu Temples Income
1) In spite of repeated requests over several years, no government or TTD has given any audit reports. Many devotees have donated money, land, ornaments etc. No audit report was ever submitted to the devotees.
2) GHHF request the Government to audit all the Hindu Temples and submit the audited report to the devotees. We request to solicit the help of CAG (Controller and Auditor General) to audit these finances of all the Temples.
3) How much money was spent on Non-Hindu activities?
4) How much money was allotted to non-religious activities such as to build fly overs, City Municipality sewer, plumbing, and water systems, and construction of roads
5) How much money was donated to different Ashrams and seers?
Gold Ornaments and Precious Stone
As we all know there is so much controversy about the missing gold ornaments and precious stones such as pink diamond etc.
1) Please prepare a list of all the gold ornaments that were available over the last 30 years or so and ensure that they are accounted for.
2) Also publish the items that were missing over the years and the action taken to recover them.
3) How many gold ornaments have been melted and kept them in Gold bar with dates?
4) What security measures are being taken to guard these valuables?
Right to Information Act (RIA)
Right to information Act must be applicable to all Hindu Temples. Devotees will have confidence and trust in the administrations if the information requested by devotees is shared or answered. For many years, TTD and other Temples are hiding behind RIA without being answerable to the devotees.
If you do not allow RIA to obtain information about the Temples activities, Government is creating suspicion about the integrity of the Hindu Temples.
Why TTD and other Temples would not provide any information to the devotees? Is it because wholesale corruption or abuse of Temple funds are rampant in the Temple administration? How do we know how much money is used for what purpose and whether it is used efficiently for the intended purpose?
Global Hindu Heritage Foundation is interested in preserving, protecting, and promoting Hindu Temples and Hindu Dharma. We are only interested in a government that respects the Hindu Temples, the Presiding Deities, and the Hindu tolerance.
Your acknowledgement of this letter is appreciated.
Dhanyavad
Prakasarao Velagapudi PhD
President, GHHF
Phone: 601-918-7111 (US number)
Copy to: Chairman TTD
Executive Officer TTD
Minister for Endowments
Chief Secretary
Endowment Commissioner