GHHF Organized Navaratri Festival in Bengaluru was a Grand Success.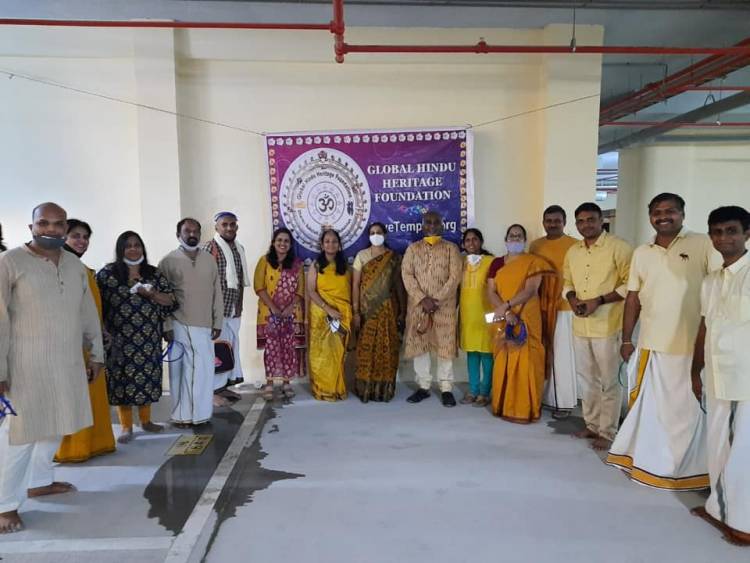 Global Hindu Heritage Foundation (GHHF) has organized ten days of Navaratri and Vijayadashami function which was attended by about 175 to 350 people in the neighborhood depending on the day. Sri Rama Sharma Kasibhatla, one of the Board members of GHHF planned to organize this function. As we all aware that may Hindus in the neighborhood were hesitant and did not encourage him. They all live L&T Tower Complex located in Bellary Road, Shabhari Nagar, Byatarayanapura, Bengaluru. He approached the Manager of the L&T Tower complex Manager to allow the function. His response was that it is a secular country, he cannot give permission to use the facility. Ram Sharma talked to him and asked him pointedly, if Hindus cannot organize Hindu festivals in India, where would they organize it. Muslims and Christians, do it without even permission, and we cannot even say one word to them. Why do we have to be scared in India and in fact he should encourage Hindus to conduct this function. After reasonable exchange of ideas, the manager graciously agreed and eventually helped RAM SHARMA to organize it.
The next hurdle is with our own Hindus living in that neighborhood. As we all know that we Hindus do not take pride in our culture and feel either inferior or sacred of other religious people. We feel indifferent to our own Hindu Dharma and even allow others to demonize our way of life and our Temples. Initially, Ram Sharma had a rough time convincing these people to organize it as a community event instead of doing it in their respective house. Finally, he succeeded in convincing 5-6 people in the beginning and then the ball started rolling. They volunteered their services and even made prasadam every day during the Navaratri Time.
Within a short period of time many volunteers have come forward and taken major responsibilities to make the program a memorable one. We want to thank, Dr. Krishna and Dr. Brunda; Manoranjan Dube, Girish, Shiv Kumar, Shiva Prakash, Pai Devdas, Amar, Poonam and others who have many hours in making this festival a grand success. Please see the attached list of people who have volunteered their assistance. They conducted all nine days of Navaratri and celebrated the Viajayadashami also along with Chandi Homa. Children performed Saraswathi Puja as the priest explained the significance of the Puja. Prasadam was served all ten days.
A Christian family, John Daniel and Philapinto enquired about the event and gladly participated in doing puja and also offering Ahuti in Homa on the last day. You can see them in the last two pictures.
GHHF extends our appreciation to Ram Sharma Garu for his determination, staunch Hindu pride, depth of knowledge which made all the difference in getting this program a great success.