GHHF Ghar Waapasi efforts in Gadwal District in Telangana State. Contact us on how you can help Ghar Waapasi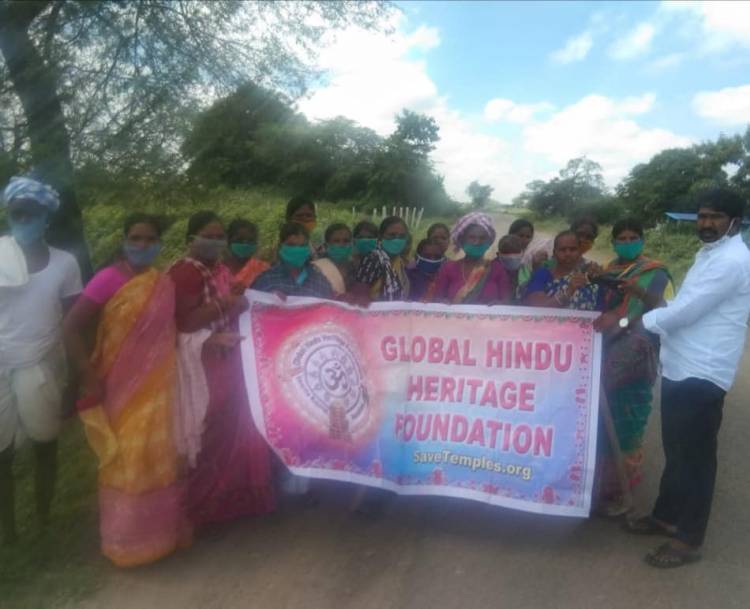 'Christianity is the most ridiculous, the most absurd and bloody religion that has ever infected the world---Where is the prince sufficiently educated to know that for seventeen hundred years the Christian sect has done nothing but harm?"- Voltaire
Global Hindu Heritage Foundation is working closely with Nitya Satyam, Telangana Student Seva Organization and a number of volunteers who are fed up with Christian denigration of our Hindu Gods, their insistence that all Hindus are sinners and their belief that Jesus is the only savior. These organizations have been working tirelessly to challenge their hateful speeches and vengeful tactics to convert.
Our friends have convinced many students that they have to be champions of Hinduism and meet occasionally to discuss about the Christian aggression. The pictures you see where you see youth sitting in school classrooms are all volunteers ready for going around a few villages to stop the conversion and also welcoming back those who took a wrong path.
You can see a few pictures where they were meeting at night. As many people are busy during daytime, our volunteers are going home by home inviting them to attend a meeting to talk about Hindu dharma and hear the differences between Hinduism and Christianity.
NEED YOUR HELP. GHHF realized that we have to look at the ground reality and how Hindus are being trapped. Unless we stop at that level and bring the converted people back home, we will continue to lose more and more Hindus to Christian deceptive techniques. Ghar Waapasi should take priority over all kinds of things we have been doing. Let us pause our other activities and go to the villages and stop the erosion. We cannot afford to lose our fellow Hindus to other religions based on ignorance, allurement, pressure, force, and threats. We have to arm our volunteers with adequate knowledge and train them to encounter the vicious and monstrous Christianity.
Call: 601-918-7111;
Email: ghhfusaorg@gmail.com
Donations:
PayPal Method: To donate visit our website: savetemples.org. Click on the Donate button, then press the Purpose category, and select the General Donation category.
By Check: Or you can send a check payable to GHHF, 14726 Harmony Lane, Frisco TX 75035. It is tax-deductible.
For more information, call 601-918-7111; Email: ghhfusaorg@gmail.com