[GHHF] Annadanam started to the Needy and Feeding Animals in SIX locations: Guntur, Visakhapatnam, Pendurthi, Anantapur, Chittoor & Tirupati
[GHHF] Annadanam started to the Needy and Feeding Animals in SIX locations:
Guntur, Visakhapatnam, Pendurthi, Anantapur, Chittoor & Tirupati
1) Annadanam started in Tirupati from May 3rd.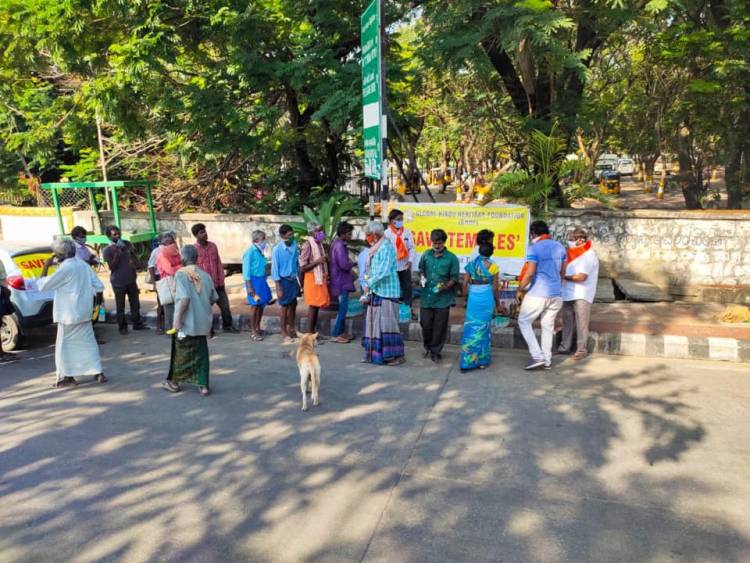 On May 3rd, Global Hindu Heritage Foundation (GHHF) volunteers started distributing Annadana packets to the poor, needy, and infirm individuals. Approximately 500 grams of a food item is packed and distributed. As many of you are aware that TTD was distributing food in Tirupati and nearby needy villages until recently. About a week ago, they discontinued. To fill the vacuum created by TTD, GHHF decides to do annadanam in certain areas and distribute them at their residences. As per guidelines, nobody is supposed to leave the house after 9:00 am. As you can see, they started distributing by 7:30 am and completed the distribution by 9:00 am. As per new guidelines, nobody is supposed to be on the streets after 9:00 am.
On May 4th, Global Hindu Heritage Foundation volunteers prepared meals and packed and distributed to the folks who were living on the streets and extremely poor people living in the poorest neighborhoods. They also distributed about 100 masks for these people, banana and water bottles.
Please visit http://www.savetemples.org as frequently as possible since we are going to update our activities in all six cities very frequently. All cities are either doing Annadana, feeding animals or serving Kashayam.
Global Hindu Heritage Foundation employees went to the area and bought enough Bananas and other fruits and fed them. Sri K Reddappa and Sri K. Subbanna have fed the cows. They will continue the Annadanam to the needy.
2) Feeding Cows, Monkeys and Birds near Anantapur area started on April 10.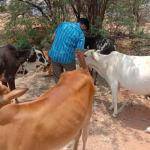 Global Hindu Heritage Foundation is incredibly happy to have the opportunity to serve these innocent animals for the last two weeks. Joining hands with the 1988/91 Degree batch, we are also able to feed these animals in Gooty and R S areas in addition to the Anantapur area. Sri Rama Sharma Kasibhatla, the Board member of Global Hindu Heritage Foundation (GHHF) and who coordinates our activities in Karnataka and other States in India received requests from different sources about the pitiable condition of these animals. are able to provide food and water to these animals.
Many volunteers are going to this village and feeding the cows and monkeys with various fruits and street dogs with biscuits. We were able to get a truckload of fruits and were able to feed them to their satisfaction. Our plan is to feed them daily with these fruits.
ABN news also covered the event. The video is attached.
3) Annadanam Seva is being done Regularly in Chittoor.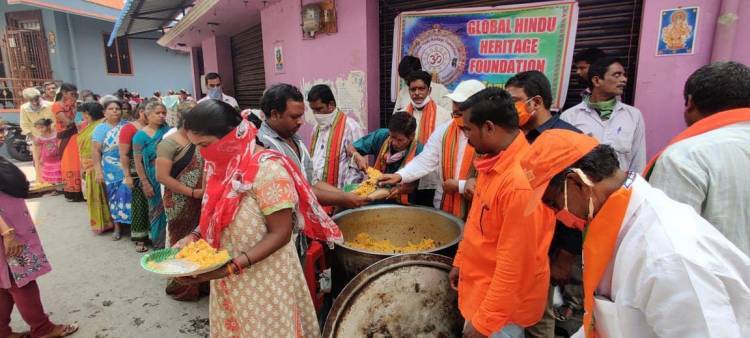 On May 3rd more than 400 people were given food. It is being done in collaboration with Sri Jayakumar, who is an active RSS member, a lawyer, and a local BJP Convenor. Annadanam is being served in the vicinity of Sri Varasiddhi Vinayaka Temple for the benefit of Balajinagar poor residents.
On April 24, Annadana Seva was started by the Global Hindu Heritage Foundation(GHHF) in association with RSS and other organizations in Chittoor. On 30th Sri V. Jayakumar, a practicing lawyer and Karya kartha of RSS organized a meeting on the importance of maintaining social distance and the importance of lockdown. Sri Jayakumar, Sri V Govindu, BJP leader; Sri M Ilaiah Raja, and Sri Venugopal, the Founder of GVG Kalyana Mantapam spoke on the occasion. Annadana Seva was organized around Murakambattu due to the lockdown because of the spread of Coronavirus. Sri Jaya Kumar said that this annadanam is being organized to about 500 weaker sections under the banner of Global Hindu Heritage Foundation with the encouragement of Velagapudi Prakasarao, who is the President of GHHF. He mentioned that Prakasarao went to the USA about 55 years ago and doing a lot of services to preserve Hindu dharma in the USA and also in India. GHHF is fighting to free Hindu Temples from government control in India.
4) Kashayam Distribution in Visakhapatnam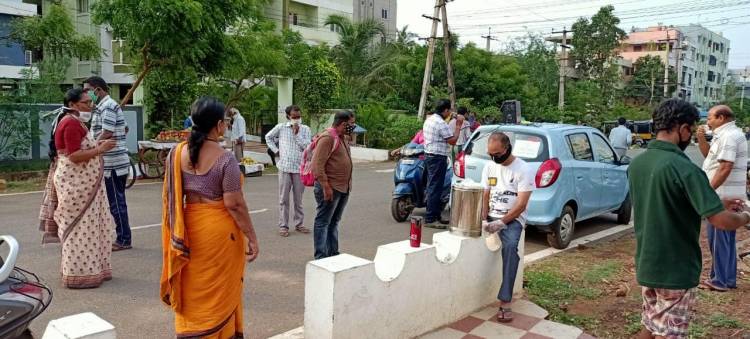 Kashayama – a kind of spiced tea – is an Ayurvedic tea brewed with several spices to boost immunity so that they would not be contracted with viruses so easily. One can take for his well-being, good health, and strength. It is quite common in India to make Kashayam during the cold weather so that they develop immunity to prevent the spread of cough, cold and fever. Also, it is given to persons who may be having fever, sneezing, and coughing.
Sri Srinivas Pinnamaneni, who volunteered to organize the event, prepares fresh Kashayam every day and distributed hot Kashayama. Global Hindu Heritage Foundation is proud to associate with him and distribute Kashayam to improve the immunity among people to counter the Coronavirus.
He is serving Kashayama in two different locations in Visakhapatnam.
Kashayam is prepared differently for different health issues, many families have their own way of preparing. The kind of spices used are different from one family to another and from one region to another.
Some of the ingredients used to make Kashayam are black pepper, fennel seeds, cumin powder, coriander, Ginger, Turmeric powder, Brown sugar, Tulsi leaves, mint leaves, Garlic, and others.
This distribution will continue for the next two weeks.
5) Annadanam is being done in Pendurthi and around Visakhapatnam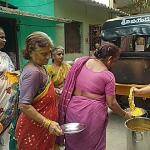 GHHF in association with Dana Dharma Foundation and Sri Sai Datta Manasa Peetam Trust is providing meals in tribal areas in Srikakulam, Vizianagaram, Vizag districts since Prime Minister announced the Lockdown.
Sri Sai DattaLokeswarananda Swamiji has been traveling to these three districts and arranging meals for the poor people as well as tribal people in these three districts.
Annadanam was served to about 9000 people since the Lockdown was announced on March 24. Later it was extended to May 17th.
Sri Sai Datta Lokeswarananda Maharaj Swamiji has graciously agreed to coordinate our Savetemples activities in and around the Pendurthi area. Sri Swamiji has been working in the area for the last three years inculcating moral/cultural values for more than 25 tribal Govt. schools, distributing books and stationery to needy poor kids and conducting competition exams, providing meals, feeding cows and educating villagers to develop skills in handicrafts.
6) Annadanam to Farm Laborers in Three Locations in Guntur, AP started.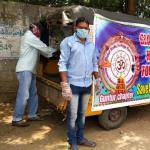 As many of you know that Lockdown was extended until May 17 in India to stop the spread of Coronavirus by Prime Minister Narendra Modi. Savetemples Office in Guntur identified three locations where there is a dire need to provide meals for the farm laborers. Since no farming is being done during this lockdown period, many farm labor families have been struggling to have one regular meal. Many of them live on daily wages. If there is no work, no income will be coming to feed their families.
Dasaripalem Village, Vengalaya Palem, Swarna Bharati Colony, and Siva Nagaraj Colony were selected based on the desperate need basis by our office and other friends of Savetemples movement. In these four locations, we decided to provide 400-500 meals to these farm laborers and their families. We are following the RED Zone guidelines. We stopped serving meals in Guntur City limits.
Many volunteers decided to cook every day and provide one good meal around mid-day. You can see there are some ladies who are cleaning and cutting the vegetables while others are cooking the meals. As you can see that in Dasaripalem village our people served the meals for everyone who came with plates. They were asked to stand in line maintaining the distance.
In two colonies in Guntur municipality, authorities did not allow our people to cook and serve the meals due to the fear of spreading Coronavirus. As a result, our Savetemples volunteers bought dry food items and packed them in bags and distributed them individually to each family. Each bag contains rice, dal, vegetables, salt, tamarind, and other items for them to cook. You can see our volunteers distributing these dry meal bags.
UPDATES are being done in our website: savetemples.org.
Please visit our website for the pictures, videos, and newspaper coverage.
We would appreciate your donation to continue annadanam to the needy, poor, and tribals as well as animals.
Sponsor ONE day meals for $250.
To donate visit our website. Click on the Donate button, then press the Purpose category, and select Feed Farm Laborers or General Donation category.
Or you can send a check payable to GHHF, 14726 Harmony Lane, Frisco TX 75035. It is tax-deductible.
For more information, call
601-918-7111
Please subscribe to Save Temples Telegram channel at https://t.me/savetemples