GHHF Supports Bonalu Festival in Telangana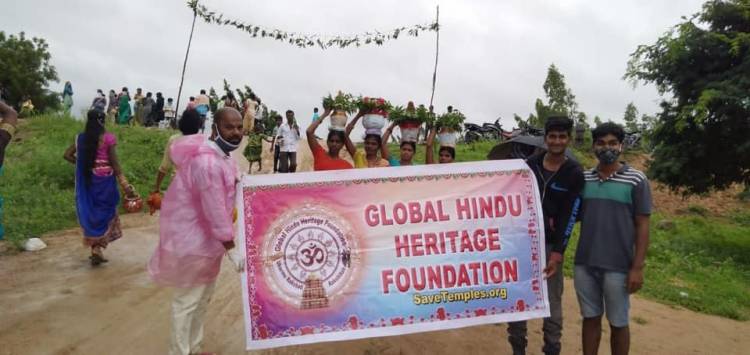 Global Hindu Heritage Foundation is extremely happy to associate with Nitya Satyam Organization Telangana and help organize and facilitate the Bonalu festival. In Telangana, it is a huge festival conducted July/August of every year
The name "Bonalu" is derived from the Sanskrit term 'Bhojanam'. Over the years it became Bonam and eventually it is termed as Bonalu. It means food or a feast in the Telugu language. As per the festival, food is offered to the Mother Goddess Mahankali. Bonam denotes the food that is cooked in pots and then it is offered to the Goddess. In various parts of Andhra Pradesh, Bonalu includes the worship of the Goddess in a number of forms and names like Pochamma, Yellamma, Ankalamma, Peddhamma, Maremma, Dokkalamma, Poleramma, and Nookalamma.
Story behind the Bonalu Festival and its Rituals
It is believed that every year, the Goddess makes a comeback to her maternal home in the month of Ashada. During the time, people offer their love, respect, and devotion in the form of dance, and pots of food, bangles, and sarees.
Just as much as a family would welcome the return of their daughter into their own house, the same way, devotees are celebrating the visit of the Goddess to her own home. On this occasion, special meals are offered so that she is pleased with her people.
They believe that Goddess Mahankali will wipe away all diseases, and sorrows of a person.
Donations:
PayPal Method: To donate visit our website: savetemples.org. Click on the Donate button, then press the Purpose category, and select the General Donation category.
By Check: Or you can send a check payable to GHHF, 14726 Harmony Lane, Frisco TX 75035. It is tax-deductible.
For more information, call: 601-918-7111; Email: ghhfusaorg@gmail.com