GHHF Ghar Waapasi in Ranga Reddy District in Telangana.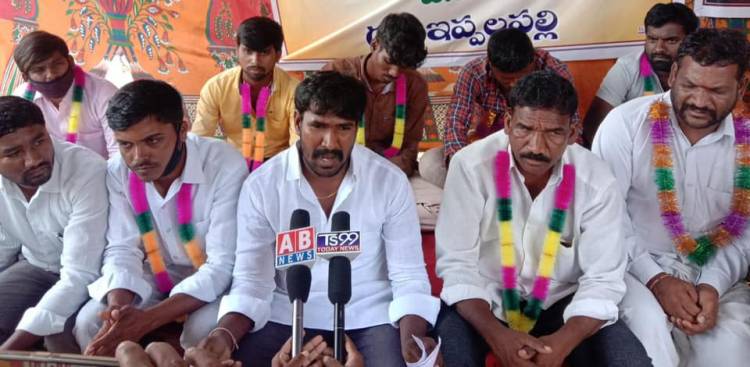 "Of all the systems of religion that ever were invented, there is no more derogatory to the Almighty, more unedifying to man, more repugnant to reason, and more contradictory to itself than this thing called Christianity" --- Thomas Pain
Global Hindu Heritage Foundation in association with Nitya Satyam have been actively going to different districts to meet the Christians who have taken a wrong path due to different reasons. Mr. Lakshmi Nivas has been organizing the Ghar Waapasi with the help of many volunteers in the villages. They plan ahead as to which village or area they need to go and assemble the people to talk about the differences between Hinduism and Christianity. Many of the Hindus who changed to Christianity feel that they do not belong there. But the Pastors keep demanding their loyalty and create fear by saying that they would burn in hell for ever.
Our people have gathered in Ranga Reddy District and celebrated Navaratri festival by visiting the nearby Temple and performing Devi Puja. They invited Hindus who came back from Christianity before and people who returned to their faith recently were welcomed and honored. They are encouraged by the response of these Christians who missed the way and who have been waiting to be approached so that their fears are allayed.
WE NEED YOUR HELP
We appreciate it if you can help in hiring more people who can go to these villages to do Ghar Waapasi. We have employed 7 people so far. More people we hire more villages can be covered to welcome them back and also create Chaitanya (Awareness) among the students and villagers.
DONATIONS
PayPal Method: To donate visit our website: savetemples.org. Click on the Donate button, then press the Purpose category, and select the General Donation category.
By Check: Or you can send a check payable to GHHF, 14726 Harmony Lane, Frisco TX 75035. It is tax-deductible.
For more information, call Prakasarao Velagapudi at 601-918-7111;
Email: ghhfusaorg@gmail.com