GHHF Ghar Waapasi in Guntur District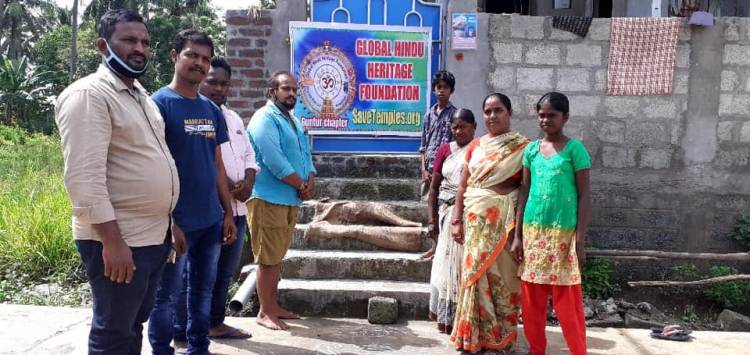 Ghar Waapasi program started in Guntur District in October. Because of heavy rains for the last one week, our people are not able to meet many people. But the efforts are continuing.
Met with few families in Sangam Jagarlamudi village in Guntur District which is mainly an SC colony. We invited them to participate in Kumkuma Archana scheduled during Navaratri time.
Also visited few other converted Christians living in Ananda Peta in Guntur city and talked to them to visit the Temple. Our people are talking to them about our culture and they do not have to fear returning to their original faith.
WE NEED YOUR HELP
We appreciate it if you can help in hiring more people who can go to these villages to do Ghar Waapasi. We have employed 7 people so far. More people we hire more villages can be covered to welcome them back and also create Chaitanya (Awareness) among the students and villagers.
DONATIONS
PayPal Method: To donate visit our website: savetemples.org. Click on the Donate button, then press the Purpose category, and select the General Donation category.
By Check: Or you can send a check payable to GHHF, 14726 Harmony Lane, Frisco TX 75035. It is tax-deductible.
For more information, call Prakasarao Velagapudi at 601-918-7111;
Email: ghhfusaorg@gmail.com