GHHF Ghar Waapasi Continues in Telangana. Arranged Local Music program in a village at Night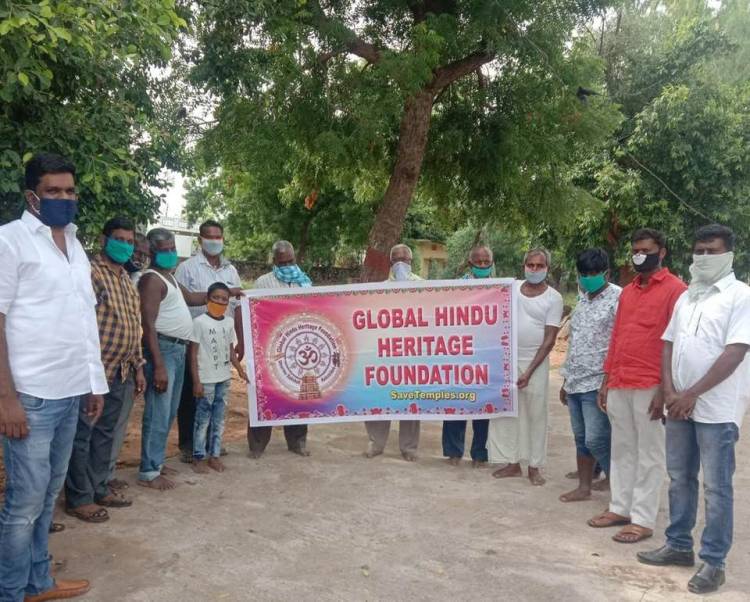 Global Hindu Heritage Foundation is working closely with the Nitya Satyam organization and other volunteers to visit a number of villages and talk to converted Christians. By arranging local programs, they were able to informally about Hindu Dharma and how it is different from Christianity. They are doing two things whenever they go to villages. First, they will talk to the local priests and elderly people about the number of people converted to Christianity and figure out how and whom to approach. Second, they will arrange some local program where many people attend irrespective of religion. That would give us the opportunity to establish communication and slowly talk about the greatness of the Hindu faith.
As you can see in the picture that our people were able to welcome back and took them to nearby Lake and sprinkled water, considered as Ganga water, to purify them from baptism.
Because of Coronavirus in Tirupati, Guntur, and Vijayawada, we are holding our efforts. We have employed five full-time employees to go to the villages and start Ghar Waapasi program.
GHHF is committed to engaging in Ghar Waapasi by giving utmost importance to welcome the converted Christians back to Hindus who may have drifted away for different reasons without full comprehension. This is the only way to bring back those who took the wrong path for different reasons.
NEED YOUR HELP

:

We

appreciate it if

you can help in hiring more people who can go to these villages to do Ghar Waapasi. We have employed 7 people so far. More people we hire more villages can be covered to welcome them back and also create Chaitanya (Awareness) among the students and villagers.
PayPal Method:
To donate visit our website: savetemples.org. Click on the Donate button, then press the Purpose category, and select the General Donation category.
By Check
: Or you can send a check payable to GHHF, 14726 Harmony Lane, Frisco TX 75035. It is tax-deductible.