[GHHF] Feeding Monkey, Cows, Street Dogs and Birds during Lockdown in India continuing in Ananthapur Area.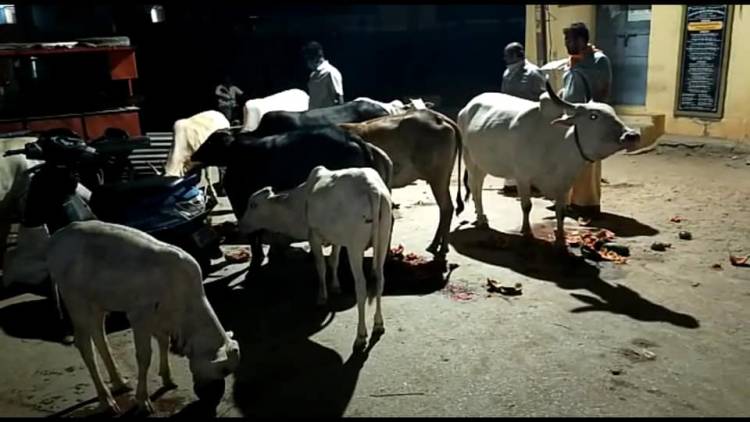 Of all the charities (Daana) , annadanam is given more importance than any other charity in Hindu Dharma. It is considered one of the religious duties of all Hindus to offer food to any unexpected guest during mealtime. In fact, Sashtras talk about eating food only after one offers food to a guest. Also, many Hindu families offer food to the deities in their house before they partake their food. Almost all the Temples and Ashrams offer annadanam to the guests. It is also customary to feed people on the death anniversaries of the deceased persons.
In India, the lockdown was extended till May 3, 2020. That means very few people can come out of their houses to attend to their daily work. They have to maintain social distance. Consequently, the cows, monkeys, street dogs and birds are being fed. Many of them are roaming with no food and water.
Generally, these animals are totally dependent on humans to feed them in either in Vegetable Market, Temples area, individual homes or in the streets. Since people are not able to venture out even to buy basic needs, these animals are deprived of their food and water.
Sri Rama Sharma Kasibhatla, the Board member of Global Hindu Heritage Foundation (GHHF) and who coordinates our activities in Karnataka and other States in India received requests from different sources about the pitiable condition of these animals. Few people called Savetemples office and appraised of the sad situation. Immediately we took the initiative to start in Kalyandurg village, Kalyandurg Mandal, Anantapur district. So, our volunteers in that Village started this operation to feed the animals.
It is decided to feed them until lockdown is lifted so that these animals would have enough food and water. We are grateful to the volunteers who have taken the responsibility to feed these animals.
We started feeding the Cows, Monkeys, dogs, and birds on April 12 and will continue until lockdown is lifted.
You can see some volunteers are going to the village and feeding them. Many people are either donating food items or giving them at a deep discount.
PITCURES
Please look at the money seating next to the Priest who is cutting Melons to feed them. Also, melons donated by farmers. Find how many cows are fed.
DONATIONS:
We urge you to share this among friends to encourage them to donate by visiting:
Press Donate button, select purpose and click on General Donation.
Any questions please send an email to: ghhfusa.org@gmail.com
Or call 601-918-7112
Please subscribe to Save Temples Telegram channel at https://t.me/savetemples