[GHHF] Annadanam to Farm Laborers in Guntur District until Lockdown is lifted in India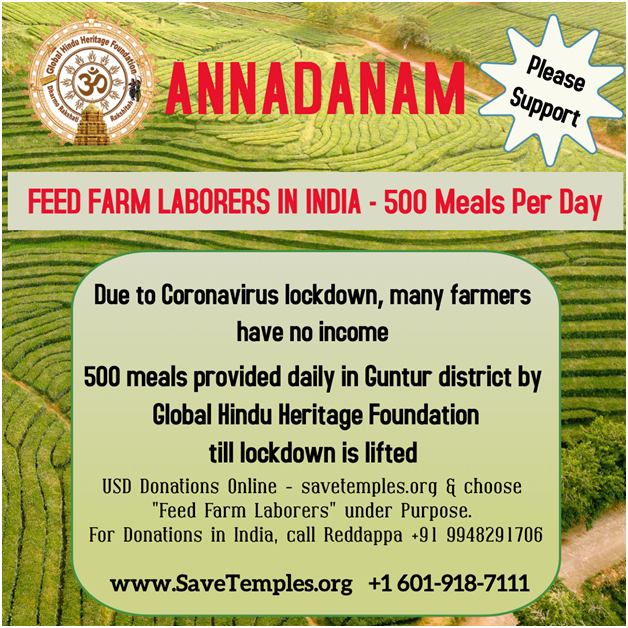 As per Vedas, "Annadanam Samam Danam Trilokeshu Na Vidhathe" meaning Annadanam is supreme and it cannot be compared to any other charity. Our tradition pronounces that one who does annadanam attains Punya Loka (heaven). In fact, the whole creation depends on food. Taittireya Upanishad says "Annam vai Pranaha", that means All life force comes from food. In Bhagavad Gita, Sri Krishna declares, "Annad bhavanti bhutani." That means all beings evolved from food. Our scriptures talk about "Daridra Narayana" - God dwells in the poor person.
"Gaja turaga Sahasram Gokulam koti danam
Kanaka Rajatha patram Methini sagarantham
Upaya kula vishuttam Koti kanya pradanam
Nahi nahi bahu danam Annadanam samanam"
MEANING: Donating 1000 elephants & horses, donating 10 million cows, donating any number of vessels of silver and gold, donating the entire land till sea, offering the entire services of the clan, helping in the marriage of 10 million women, all this is never ever equal to Annadanam, the feeding of hungry and needy.
Annadanam, offering food to the needy and the visiting guests in many Ashrams, is a common practice for thousands of years. More importance is given to providing meals to the people who are hungry. Providing meals at many Hindu Temples and Ashrams is an old custom. Our Temples provide Naivedyam to Gods on a regular basis as we believe the presence of Paramatma/God in the installed Deities. Similarly, we believe there is a divinity in all the creatures – humans as wells as non-human. Sharing food is considered the sacred duty in Hindu culture. On almost all the festivals, the organizers provide meals. Thus, annadanam is given the highest importance because of our belief that God lives as Atman in each one of us.
Global Hindu Heritage Foundation (GHHF) has decided to provide annadanam to the farm laborers up to 500 in Guntur District in India who do not have any source of income to feed themselves. They live on a day to day wages. Since the whole country is in a lockdown situation due to Coronavirus, they do not have anything to have a decent meal even once a day. GHHF feels fortunate to participate in this Seva to feed the needy farmers where there is an urgent need.
Annadanam will start on April 16 until Lockdown is lifted
This is one-act where the recipient feels satisfied with what is served. It is impossible to express the feeling of satisfied people when we see their face after the meals.
DONATIONS:
In the USA, people interested in donating to Annadanam can go to our website and click on "Feed Farm Laborers" under "Purpose." One day donation would around $250 per day.
Website: https://www.savetemples.org/
In India, People can contact Mr. Reddappa at +91 99482 91706.
For More Information:
For any questions, please contact Prakasarao Velagapudi 601-918-7111
Please subscribe to Save Temples Telegram channel at https://t.me/savetemples