GHHF 10000 crore times Sree Nama Japam was conducted on August 5 and Sri Ganesh and Sri Hanuman Pranaprathishta was performed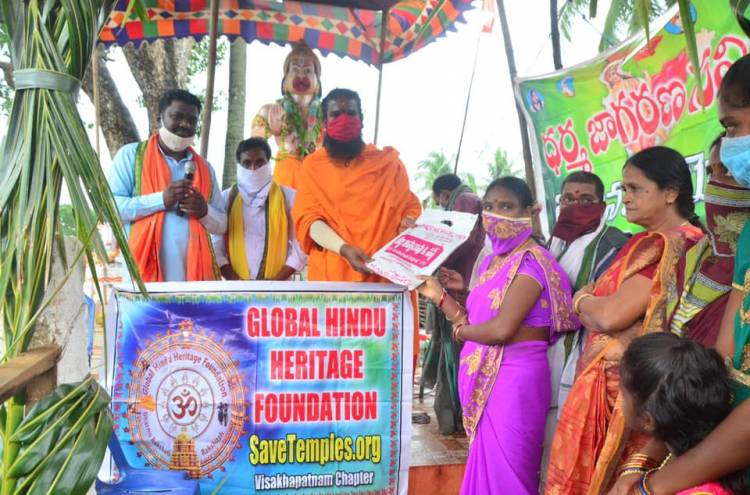 Global Hindu Heritage Foundation in association with Sai Datta Manasa Peetham organized Dasa Sahasrakoti Sree Rama Japa Maha Yagnam (the chanting of Sri Ramas nama 10, 000 crores times) by a number of villagers on August 5, 2020. Without any regard for caste or religion, more than 300 people participate and chanted continuously for 5 hours. The whole village and nearby places have reverberated with the sound of Rama Nama.
This event was organized in order to coordinate with the Bhumi Puja of Bhagavan Rama's Temple in Ayodhya. As we all know that it took more than 492 years to reclaim the property and obtained permission legally by the Supreme Court without resorting to violence. This is the moment Hindus have been waiting to build Rama Temple in His Birthplace. Based on historical evidence coupled with the remains of Rama Temple underneath Babri Masjid, the Supreme Court of India gave permission to build Sr Rama Temple. GHHF and Sai Datta Manasa Peetham were very happy to organize this marathon chanting of Sri Rama on Bhumi Puja day.
Why Rama Nama Japam? Rama Nama is acclaimed as an immensely powerful mantra capable of alleviating suffering, creating positive vibrations, removing the negative thoughts, avoiding potential problems, giving solace to the agitated mind and, above all, providing the means to salvation. Chanting Rama Nama gives the benefits of chanting a thousand names of the Lord says Siva to Parvati, in the concluding section of the Vishnu Sahasranama.
Whenever we read Ramayana, Hanuman has accomplished only by chanting the nama of Rama. He crossed the ocean by chanting Rama's name. Rama Nama has great significance. It is filled with strength, power, and energy. Before the Rama's incarnation was about to be completed, Rama asked Hanuman to go into Samadhi and attain the eternal bliss. Hanuman refused and said that he would prefer to live in Rama's birthplace and keep chanting Rama's name. Hearing this, Rama asked Hanuman, " why is it you value my name more than me?" Hanuman replied, " My Lord, You are only a mortal incarnation, whereas your name and deeds are eternal. Hence your name on this earth is eternal." As long as Rama's name is chanted on this earth, Hanuman said he will always be present at such places.
On this occasion, at the request of the villagers, Prana Prathishta was done for Sri Ganesh and Sri Hanuman. Sai Datta Manasa Peetham welcomed 18 families into Hinduism. They have realized the importance of Dharma and the richness of our culture. Many other religious people are hungry to return to their original home.
Donations:
As many of you are aware that it would take a lot of energy, time, and MONEY to engage in this kind of Ghar Wapsi program. Your financial support will help to continue our program in 5 different locations and we continue to expand efforts going to as many villages as possible.
PayPal Method: To donate visit our website: savetemples.org. Click on the Donate button, then press the Purpose category, and select General Donation category.
By Check: Or you can send a check payable to:
GHHF, 14726 Harmony Lane, Frisco TX 75035. It is tax-deductible.
For more information, call
601-918-7111
Email: ghhfusaorg@gmail.com