BJP manifesto for Loka Kalyanam (Public Welfare); Congress Party and TRS Manifestos for Minority Kalyanam (Muslim and Christian Welfare) for Telangana Elections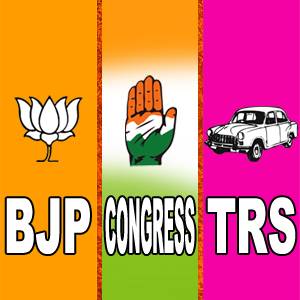 Each party has prepared and released the manifesto to announce the positions they have taken to inform the public with the hope that the people will take interest in reading the manifestos and digesting them before they exercise their precious vote to the candidates. BJP stands for the welfare of all the people irrespective of religion or caste. It does not believe in denying the opportunities to Hindus or anybody else at the expense of the so-called minorities.
Why should able bodies Christian or Muslim should be given special privileges encouraging dependency, laziness, and lethargy while denying the hard work, intelligence, ambition and drive to succeed. BJP is more interested in preserving, protecting and promoting the samskruti of the country. Every country is known for its cultural, literary, artistic, social and educational heritage. It is the duty of every citizen of the country to take pride in the heritage and see that it is transmitted to all segments of the society.
BJP is interested in giving equal opportunity to everyone irrespective of their religion. It does not want to destroy the rich culture that it has inherited for the benefit of few people. Look at the manifestos of each party and decide which one is for the welfare of the public.
BJP Manifesto
Promised to distribute cows in villages at the time of festivals, to those who want them. One lakh cows will be distributed.
Promised to cancel the surcharge fares by state-run Road Transport Corporation (RTC) buses during festivals such as Diwali.
Proposed introduction of Yoga in schools and colleges and setting up a Sanskrit University in the state, besides establishment of a board for welfare of IT sector employees.
Promised free transport to those performing Deeksha –religious code of behavior –for those visiting temples such as Sabarimala.
Proposed to regulate the sale of liquor in the state, claiming, unrestricted sale has caused social and law and order problems in the state.
Total waiver of the tax on petrol and diesel, free online and offline coaching to youth appearing for competitive examinations and provision of safe drinking water for Rs six per month per household are the other proposals made by the manifesto committee.
Promised Rs 3,116 monthly stipend to unemployed youth
Promised Rs 10 lakh financial assistance to Telangana martyrs
Promised farm loan waiver up to Rs 2 lakh.
Promised free borewell or agriculture pump set
Promised free laptops to degree students
Promised IT expansion to tier Il cities like Karimnagar, Warangal, Nizamabad and Nalgonda
Extension of Metro Rail to Patancheru, Suraram, Kompally, Alwal, ECIL, Rajendranagar.
BJP has announced subsidy to senior citizens visiting religious places like Kailash Manasarovar, Kashi and Puri, under arts, language and culture.
The history of Hyderabad, including the Nizam rule, the activities of Razakars and the struggle for separate Telangana would be made part of academic curriculum
Congress Party Manifesto
Congress Party is known for appeasing Muslims and Christians since Independence continue to fashion the Manifesto in a similar manner is no surprise. Despite their loosing last elections because of undue privileges accorded to the minorities, they have not learned the lesson.
Their vote bank politics catalyzed their vision for India stabbing the wishes of most Hindus. In December 2006, the then Prime Minister Mr. Manmohan Singh announced at a meeting of the National Development Council in New Delhi, he sought to redefine secularism and announced that high priority will be given to minorities at the expense of Hindus. Welfare of one community took urgency over everyone else in the country. He even announced, "Muslims must have first claim over resources".
Following are the high lights of Congress Party Manifesto:
The Congress has promised seven 'Muslim-only' schemes in its manifesto to woo the community's voters ahead of Telangana Assembly Elections 2018.
free electricity to mosques and churches,
special opportunities in government contracts for the Muslim youth,
Rs 20 lakh aid to poor Muslim students,
residential schools for Muslims,
hospitals for minorities,
special Urdu DSC (District Selection Committee) for minorities, and
punishment to firms for hiring on the basis of religion.
TRS Manifesto
TRS Manifesto is equally favoring the Muslims and its passion to provide incentives is unabated. Since TRS is aligned with MIMS, it is going all out to please the Muslims and stab Hindus who have provided the major support for TRS party. Many social welfare programs appear to be acceptable, Minority Appeasement was criticized by many people.
TRS said that it would continue to press and fight for implementation of 33% reservation to BCs and 33% reservation to women in legislatures.
Provide 12% reservation to STs and 12% reservation to economically backward Muslims. "For implementing these reservations, the state government will continue to fight for their cause with the Centre," the TRS said.
All types of Aasara pensions will be enhanced from Rs 1,000 to Rs 2,016 while the pensions of differently abled persons will be enhanced from Rs 1,500 to Rs 3,016.
Economically backward people who have their own plot will be provided financial assistance, ranging from Rs 5 lakh to Rs 6 lakh.
Large scale health camps would be organised across the state, with diagnostic tests being conducted for the poor at the government's cost.
Efforts are in on to transform Hyderabad as a global city. This will be accelerated with more initiatives.
The retirement age of government employees will be enhanced from the present 58 to 61.
Promised much earlier unemployment allowance of Rs 3,000, crop loan waiver up to Rs two lakh in one go instead of instalments as in TRS rule, social security pension of Rs 2,000 and Rs 10,000 as investment support to agriculture.
Promised to increase investment support of Rs 8,000 per acre for agriculture to Rs 10,000 per acre.
We encourage people to go to the websites of these parties to look at their Manifestos to get acquainted with their position on various issues.
Please subscribe to Save Temples Telegram channel at https://t.me/savetemples