Memorandum of Concerns about TTD submitted to Sri A K Shingal, Executive Offer
December 23, 2019
Sri Anil Kumar Shingal
EO of TTD
Tirupati, AP
Dear Sri Shingal Garu:
Sub: Concerns about TTD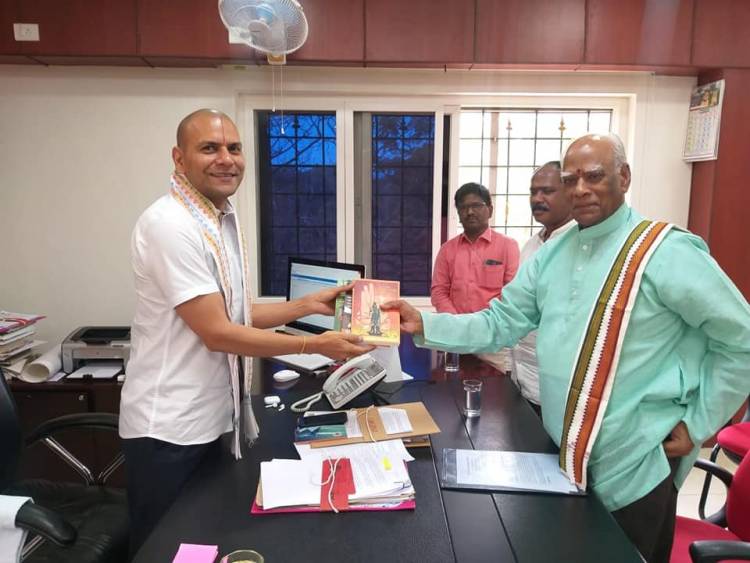 I want to submit our concerns related to the activities related to a number of decisions your government had over the last 7 months. I sincerely hope that you will look at these concerns with open mind and fairness.
1. Christian Menace in TTD
There is rampant presence of Christians in Brrd Hospital and Devasthanam. As per our information from several sources, there are about 15-20 per cent working in TTD. There are more than 15,000 employees in TTD. That means there are as many as 3000 employees practicing Christianity. Except those 44 employees who revealed their identity as Christians at the time of their employment, thousands of employees willfully and deceptively hide their identity. Some of them may have joined by falsely filling up the application for employment or some of them may have been converted to Christianity while being employed at TTD.
These Christian Converts are making the life of the practicing Hindus employees miserable, depressed and disheartened. They are insulting the practicing Hindus, demeaning Hinduism and insulting the images of Hindu Gods and Goddesses.
2. In BIRRD Hospital
Following are the comments by some of the Christian employees of BIRRD (Sri Balaji Institute of Surgery, Research and Rehabilitation for the Disabled ( BIRRD) Trust hospital to Hindu employee:
Why do you worship that Shila / stone without even mentioning the name of Lord Sri Venkateswara?
Many Christian employees call the Hindus fools to worship that idol without mentioning Lord Venkateswara name.
They refer Sri Venkateswara as Saitan.
They ridicule them for putting big Tilak on their forehead.
One of the supervising nurses insults them constantly.
Some of the Christian nurses make Hindu nurses sick mentally and physically.
They are supposed to attend the Puja on Saturday morning, do pradikshna and take prasdam. They rarely attend this puja. If they attend that puja to show their presence, they do not do pradakshina and do not take prasdam.
They do not take Prasadam at any time because it is called saitan food by Christians.
Some of them got smart recently and putting a tiny tilak on their forehead which is hardly visible.
Some of the nurses' husbands are the pastors who built churches. They go to churches regularly.
Some of the Christian nurses talk about Jesus to Hindu patients and emphasize that they will recover soon if they believe in Jesus. They will put the Bible under the pillow of the vulnerable patient.
3. In Devasthanam
Many of the Christian officials in their offices avoid not only doing namaskaram, they do not even look at Balaji and Padmavati picture.
Where there is back entrance to the office, they prefer to enter that way to avoid accidental glimpse of the Lord's face.
They discretely engage in conversion tactics targeting junior and lower level employees.
One more Observation
It appears that some of the Managerial staff and even priests come to their duty drunk – after consuming alcohol.
In Balaji colony on the Tirumala Hills, some of the employees eat non-vegetarian food. It is inexcusable to allow them to eat non-vegetarian food and drink alcohol.
Abuse of Privileges
About 3 years ago during Brahmotsava time, all the employees were given Sri Venkateswara Gold Coin wrapped in a box. These Christians took the box, did not open the box to avoid looking at Lord Venkateswara image, called the Jewelers and sold them. Many of the practicing Christians do not have these Golden Coins in their houses.
If they really believe in Lord Balaji, don't you think they would not keep it either in their Puja room or in a special place in the house?
All the TTD employees are entitled to have 10 Laddus per month. Many of these Christians buy them at Rs 5 and sell them there itself for Rs 50-100 to the pilgrims.
Before AP Chief Secretary L.V. Subrahmanyam was transferred, he announced that non-Hindus who are employed in Hindu Temples should leave their positions. He requested the Endowment Commissioner to visit the employees' houses unannounced to find out if they are practicing Hindus. Few days later during his visit to the Tirumala temple in August 2019, he said that surprise checks would also be conducted at the houses of the employees to ensure that they are not practicing non-Hindu religions. He had said that they are aware that many employees have converted to other religions. Though the government cannot stop them from converting, they cannot continue in their jobs at TTD, he said.
On August 28, even the Chief Minister Jagan Mohan Reddy announced that non-Hindus will not be allowed to work at Tirupati Temple.
Queries
What action have you taken to see that non-Hindus are identified and removed from their positions as per the announcement of L V Subrahmanyam and Chief Minister Jagan?
Have you made any surprise visits to the suspected non-Hindus homes as announced by L V Subrahmanyam?
Have you even identified the suspected non-Hindus working in TTD and BIRRD Hospital?
Appoint a Special Committee to investigate
We request TTD Board to investigate all the allegations surrounding the employees who are practicing Hinduism and insulting the very institution they are working for. Many people have no confidence in the management of TTD Board since it is appointed by the State government. A long as TTD and other Temples are under State government control, the Board cannot be impartial, independent and unbiased. They cannot resist the pressures from the government to warp the investigation.
Since RTI (Right to Information Act) cannot be applied to TTD activities, it is almost like a secret organization without accountability, transferency and openness. As we all know there are no audit reports of TTD for decades. Requests for audit reports are never fulfilled.
A Special Committee must be appointed on the basis of the recommendations of many Hindu organizations who are only interested in maintaining the sacredness of the Temple and who have a track record of working for the preservation of Hindu Temples and Hindu Dharma.
Install CC Cameras
TTD should install CC cameras in every patient room and offices of Supervisors, head nurses, nurse stations, and other rooms where two or more people meet in the Hospital to find out how Hindu nurses are insulted, disparage Hindu customs, and disrespect for Lord Venkateswara
On the Hill, install all the offices of the TTD employees to monitor their activities to find out if they have any faith in Lord Venkateswara.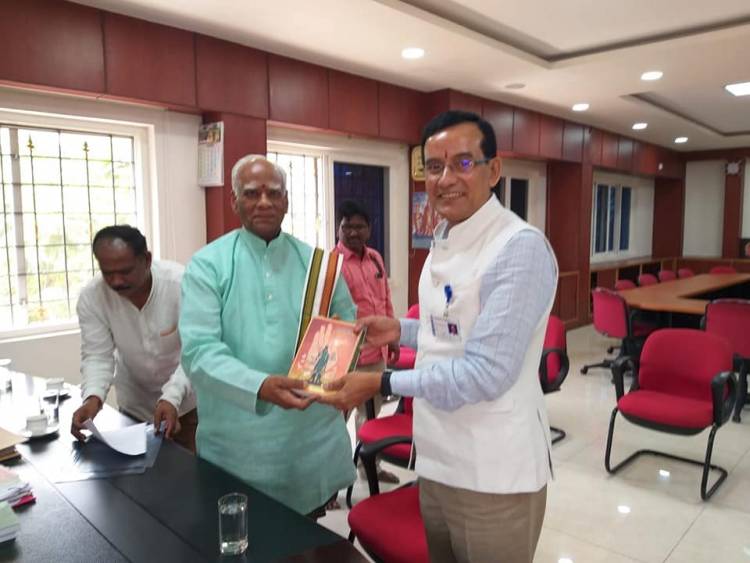 Presenting book to JEO (joint executive Officer) Basant kumar
4. Dress Code
Dress Code for Employees
On December 5th, as an NRI we had darshan of Balaji. As we keep walking in the line we noticed that more than 80 percent of employees did not wear Govinda Namas (Tilak/Bottu) on their forehead. Is there any Dress Code policy for employees of TTD? How can we create spiritual and religious ambience in the most sacred place on the earth for Hindus if the employees look like zombies with no energy, enthusiasm and devotion.
Can you provide a copy of the Dress Code for the employees? They should be the role models for all the pilgrims by creating spiritual and religious ambience.
Dress Code for Pilgrims:
As you're aware that to enhance the spiritual ambience among the devotees visiting Tirumala to have the darshan of Lord Sri Venkateswara Swamy, TTD had introduced traditional dress code in 2013. Pilgrims who are taking part in Arjitha Sevas and VIP pilgrims seeking general pilgrims who go for Rs.300 and Rs.50 darshan. For men the dress code is dhoti or pyjama with upper cloth.
For women the preferred dress code is a saree or a half-saree with blouse or churidar with pyjama and upper cloth. Few days ago the EO assured the caller that TTD will slowly take up a campaign on dress code so that even the general pilgrims follow the traditional dress code.
5. Mishaps after mishaps
Bus tickets with information on Jerusalem pilgrimage advertisement. Why nobody even monitored before the tickets are shipped.

Sri Yesaiah Sri Venkateswara in the Panchangam. The website would have access to only few people from TTD. Vigilance officer indicated that non-Hindus might be responsible for this action. What is revealed in your investigation and what action is planned against persons responsible?

Pushkarini was not filled with Water during Karthik Masam denying lakhs of devotees to take a dip in the auspicious month. To our knowledge it never happened before in the recent times.

Vaikunta Ekadasi Uttara Dwara darshan - Who made the decision to keep the door open for ten days in the beginning itself and how it was decided to reverse.

Bus tickets changed from Rs.55 to 65. What was the reason?

Room charges were hiked – Why they were increased?

Sri Y V Subba Reddy, TTD Chairman was invited as Chief Guest (Aatmeeya Visishta Athithi) by Christian Committee, Y S R C P, Rajamahendravaram. How can he take action against people who shared in the social media? The Chairman said he has nothing to do with Christian Committee and he expressed his anger. Public Relations Officer of TTD released a statement by saying that Chairman was not invited by anybody and somebody intentionally doing this to discredit him. He said he will report to the police.
Is he going to register a police case against the Christian committee who printed the invitation card without his knowledge or people who circulated it?
Some of the devotees have been manhandled by Security force/ any action taken against? Were they ever had a training to be sensitive to the needs of the devotees?
6. Golla Mantapam
So much discussion is going on the alleged dismantling or moving to another location of ancient, historical and sentimental Golla Mantapam. This discussion is not new; it was deliberated for many years. In 2004, the High Court already gave judgment saying that the dismantling of Golla Mantapam is "arbitrary, discriminatory, unjust, unwarranted, mallacious, contrary to the customs, Hindu Rites especially offending Yadava community at large which is in violation of the rt. 14, 16 & 21 of the Constitution of India and set aside the decision of the respondents and consequently restrain the respondents from damaging or removal of the said structure called as "Golla Mantapam." (February 23, 2004).
It has a long history and a moving legend behind the construction Golla Mantapam. Let us preserve our heritage and culture and teach our children to make them proud of their rich heritage.
By making a clear statement, it will allay the fears of all the devotees.
7. RTI (Right to Information Act) should be made applicable to TTD
Devotees of Lord Venkateswara should be able to obtain information about various conducted activities, religious practices, Christian infiltration, financial management, responsibility to devotees, sacredness of the Temple, employees' code of conduct and sacredness of TTD. No audit reports have been submitted for nearly decades.
TTD should be accountable to devotees. People against Corruption stated that "It's absurd, immoral and illegal to plead that TTD is not accountable to people under the RTI Act. Such an unreasonable plea raises suspicion that something is rotten in it, and it wants to hide. Being one of the most efficiently administered organization, the TTD has no reason to fear the RTI Act and escape the accountability or answerability… people have every right to demand every bit of information about the way they are spending the money they have donated to Lord Venkateswara."
It is obvious that something is wrong with the administration. What could be the reason for not sharing the information? Over the years some EOs felt that it would not only unnecessarily embarrass them but they are obviously abusing and misusing the funds. They do not want devotees to have access to the way they spend money and how they safeguard the jewelry. Hence, they decided to refuse RTI.
We request the TTD to honor the RTI for the sake of accountability and transferency.
8. 50 Percent Reservations is wrong
Global Hindu Heritage Foundation (GHHF) requests you to withdraw these two resolutions to respect the Indian Constitution. As you are aware that a certain percentage of reservations are made for socially and educationally backward communities and the scheduled castes and Tribes in the public sector units, union and state civil services, union and state government departments in all public and private educational institutions except in the religious/ linguistic minority educational institutions.
It means that percentage reservations for backward classes are excluded from the religious institutions. Any attempt to enforce the 50 percent reservations in the Temple Board is only to interfere with Hindu Religious Temple management and appoint Christians in the Temple management positions which is against the Indian Constitution.
Among these backward communities there may be as many as 50-60 percent Christians. By appointing them to Temple Boards, you are appointing Christians to the Temple management positions. Since it is the obligation of the Christians to proselytize and engage in missionary activities, the government is deliberately appointing them to Christianize Hindu Temples. It is tantamount to ruining the sanctity and sacredness of Hindu Temples.
Since nothing is mentioned about only Hindu candidates of SC, ST and BC will be appointed to the Temple Boards, it is certain that Christians are more likely to occupy the Temple Management positions. If the government is interested in maintaining the sanctity and sacredness of Hindu temples and not interested in tampering with the rituals and practices of Hindu tradition, government should openly declare that only Hindus from backward communities will be appointed by issuing a different G.O.
It is morally and ethically wrong to appoint either Christians or Muslims to the Temple Boards. As Chief Minister, it is your dharma (responsibility) to make sure every religion is able to follow their way of life as long as no religion threatens the very existence of another religion. No government has the moral or legal right to interfere with the management of their religious institutions.
There should be strict separation of state and religious institutions. Christian churches should not be interfered by government by appointing Hindus or Muslims to manage them. Similarly, Mosques should not be managed by either Hindus or Christians.
Hence, we request you to withdraw the resolution allowing backward classes – SC, ST and BC communities - to be appointed in Hindu Temple Boards.
9. TUDA Chairman appointment to TTD Board is equally wrong
GHHF is opposed to the appointment of Chairman of Tirupati Urban Development Authority as ex-officio to TTD Board. There is every possibility the TUDA chairman can be either a Christian or a Muslim. Appointment of such person may bring Christian perspective to the Temple management and engage in missionary activity on the Hill.
We request you to withdraw this resolution as soon as possible before TUDA chairman is appointment to TTD Trust Board.
10. Resume to Build 500 Hindu Temples in Poor Hindu Population
As per GO R T. No. 820 dated August 2, 2016, TTD has agreed to build 500 Hindu Temples in the weaker section localities. To our knowledge no Hindu Temples were built in 2017. In 2018, 500 Hindu Temples were built under the aegis of Hindu Dharma Parirakshana Trust (HDPT) through Samarasata Foundation.
It appears that the Board of Trustees of TTD during previous administration has discontinued the funding for 2019 thereby a successful program was axed. We feel TTD should find few other organizations to give this responsibility of constructing Hindu Temples in the weaker section localities.
We earnestly request you to see that the resolution is passed to build 500 temples in the year 2019 as per GO.
11. Sunday Schools for Children to Teach About Hinduism
As we all aware that Sanatana Dharma has no systematic method of transmitting the richness of Hinduism to the youth. Parents do not have enough knowledge to transmit to their children. Schools do not teach about Hinduism as they are considered secular institutions. The only institutions that can transmit and educate our children are our Hindu Temples.
Realizing the importance of teaching our faith, many Hindu Temples are conducting Sunday schools in USA. As you know that there are more than 1200 Hindu Temples in USA. I would estimate that nearly 20 percent of these Hindu Temples are conducting Hinduism classes to our children from ages 5 thru 15.
We request TTD to conduct Hinduism classes to our children in and around Tirupati to equip them with invaluable knowledge about their religion. You can start with may be 2-3 Sunday Schools programs in different neighborhoods. TTD will be able to make them proud of their religion and who would be our ambassadors to the future survival.
12. Funding of Educational Institutions
TTD manages about 33 educational Institutions. Some of them are designed to promote Hindu art, dance, Vedas, Music and scriptures. TTD funds these institutions at the rate of about 120 crores per annum. Many of the professional high schools, junior colleges, universities, Engineering colleges and others receive the funds from TTD.
We request that TTD should require all these institutions to offer 2-3 courses on Hinduism that would enable the students to know about their culture and meet the requirement that TTD funds are used for religious purposes only.
Why should TTD support financially any educational institutions if they do not even offer 2-3 courses on Hinduism and make it mandatory? TTD should not fund institutions that do not require all the students to take courses on Hinduism.
13. Hindu Dharma Prachara Parishad
Hindu Dharma Prachara Parishad of TTD should concentrate its mission to preserve, propagate and promote Hindu Sanatana Dharma to our youth by organizing different devotional methods to equip them with richness of Hindu Dharma which would help them to counter misinformation propagated by other Abrahamic religions. TTD cannot be a silent spectator for the missionary activities of other religions. TTD cannot close its eyes to the impending danger to its very existence. It should have investigative branch to find out the deceptive Christian conversion tactics and take necessary legal action against these illegal converts.
Should provide priests to the needed temples.

Should conduct Srinivasa Kalyanams in Dalit communities Regularly

Develop Bhajan Mandals in as many villages and Temples as possible.

Conduct Youth programs for extended period for them to absorb and digest the depth of knowledge in the rituals and scriptures.
14. Christian Employees at TTD – Revisit High Court
As we know that TTD identified 44 Non-Hindu working in Devasthanam following the release of video showing an employee attending Church by taking TTD Vehicle. Many Sadhus and other Hindus agitated demanding the identity of the Christian employees and to reveal the number of employees working in Devasthanam. TTD identified 44 Christians and Muslims as employees working at Devasthanam and agreed to terminate their jobs. These employees went to High Court demanding that they be allowed to work in Devasthanam. High Court agreed with the Christian employees and issued stay order until further order.
Speaking to reporters, TTD Executive Officer Anil Kumar Singhal, said, "As per our guidelines in tune with GOs issued in 1989 and 2007, non-Hindus will not be recruited either in teaching or non-teaching categories of TTD. We have identified 44 people who got appointed in the TTD against the guidelines since 1989. Majority of them are employed under the compassionate ground category. We are now contemplating sending them to other State government departments."
We request TTD to move the High Court requesting that it should take up the case and make a final judgment at the earliest possible time.
TTD should request the High Court to expedite the matter and allow transfer to other departments.
TTD should in fact request the State government to transfer these Non-Hindu employees to other secular departments instead of keeping them at Devasthanam.
As we all know that believers in Abrahamic religions believe in proselytization and it is the WORD of their chosen God they are required to follow. High court's decision will encourage them to engage in missionary activities on Devasthanam grounds
De we have any mechanism in place to find out that they are not engaged in conversion of other Hindu TTD employees to other faiths. The longer we keep them on TTD payrolls, more conversions may take place unless an investigative team is appointed to oversee their activities.
15. Islamic University
Global Hindu Heritage Foundation was the first one to expose the existence of Islamic University with photos in September 2013. Ms. Shaik Nowhera was building the structure illegally and in violation of the plan approved by TUDA. The permission sought from TUDA was only for constructing a building with ground floor and first floor. In spite of the efforts by Thondavada Village Panchayat's efforts, the building was being constructed with a ground floor and 6 floors.
District Collector K. Ramgopal has instructed the revenue and police officials to demolish the unapproved floors of the building that houses the Heera International Islamic University in Thondavada village of Chandragiri Mandali. Now it is being litigated in the courts.
TTD should acquire the building and use it for educational purposes. It should move the courts to resolve the issue and see that influx of Muslims is avoided so that peace and tranquility will be maintained near the foothills of Sri Venkateswara Temple.
Hope that you will provide a meaningful response to this letter by taking appropriate measures to rectify the concerns expressed.
Dhanyavad
Prakasarao V Velagapudi, PhD
President, GHHF
India Phone: 8500738140
US number: 601-918-7111
Copy to: Sri Srinivas Vellampally, Endowment Minister
Sri Y V Subba Reddy, TTD Chairman Board
Sri Anil Kumar Shingle, EO, TTD
Sri Minoan Singh, Principal Secretary