[GHHF] TTD Lands are not Properties; they are Manyalu and Kainkaryalu by Sri Paripoornananda Swamiji.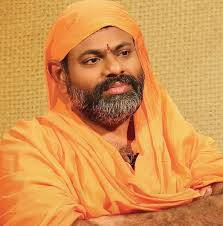 Sri Swami Paripoornananda Saraswathi speaking on Bharath Today TV regarding the sale of Temple lands in Tamil Nadu, gave an enormously powerful, convincing, and strong message to all the Temple Managements, Endowment Department, State and National governments, Hindu politicians and Hindus. Many of us have no understanding of the lands donated by our fathers and forefathers and why they donated their lands to various Temples. Their vision, their passion to protect the Temples, and their abundant faith in their beloved Gods. They donated these lands to guard, protect and preserve the integrity of the Temples and to make sure their Gods and Goddesses are properly attended and also to ensure that the rituals and festivals are conducted uninterrupted.
As you all know that TTD passed a resolution On April 30, 2020 to sell what they call "immovable properties which are viable and not maintainable by TTD" and hence decided to conduct public auction. This Resolution was released on May 23rd. The whole Hindu Community was thrown into chaos, confusion and contempt.
In his Bharath TV appearance Sri Swami Paripoornananda says that no government and not even legal system has any authority to dispose of the lands donated by the devotees. It absolutely wrong to call Temple lands as Temple properties or assets. It is used only to serve the Temple needs. Only when the lands belonging to an individual are called Properties. Lands belonging to Temples are called Manyama and Kainkaryalu.
What is manyam?It means the one that deserved to be respectful, honored, and deferential. When we say ManyasreeLaksmi, Padmavati, Anasuya etc;, we are approaching that lady with utmost respect. It is like a monument that needs to be protected. It should not be disrespected by disposing of the most respectful lands.
What is Kainkaryam? It means once a land is donated it is considered kainkaryama. It cannot be given back or disposedit off. It is permanently placed in the hands of the Gods and Goddesses. No body has any legal authority over this land.
Hence these lands cannot be auctioned and cashed out and deposit in the treasury. The lands have to be protected and in fact they need to be multiplied. In fact, any material objects donated by devotees should not be sold or cashed out. For example, many devotees donated many gold ornaments, diamonds, rubies, pearls etc. If we have so many gold ornaments that are used for many years and that are unusable, we do not have authority to sell them. Since these are gold ornaments, you have the responsibility to convert them into Gold bars and preserve until they can be used for decoration purposes.
Sri Swamiji said that if the there is a threat of encroachment, after so much deliberation, we need sell and buy the land in some other place to make sure the donors' wishes are fulfilled. It cannot be cashed out. In fact, the revenue generated from these lands should not be used for any other purpose except to buy additional lands.
He says that governments come and go, leaders come and go, parties come and go. They are all temporary. None of the leaders and parties are permanent. They have no authority over the Temple lands donated by the donors.
Sri Swamiji said that he is nor just referring to the present government. It must be looked into all previous governments who tries to abuse their power. TTD has no authority to sell. Who gave them the authority? All the Temple authorities must be aware of the difference between Property and Manyam and Kainkaryam. Once they know the difference, they will honor, protect. and preserve the land donated by Kings as well as paupers.
This is an immensely powerful, informative, and inspirational speech. Any body who knows Telugu language, it is must. You will be equipped with enough knowledge to present your case for not selling the land. Hindus must protect their Temples, their lands, their ornaments, and their assets. Your vigilance will deter the politicians from doing all kinds of sacrilegious activities.
Please click on this link and listen to Sri Paripoornananda Swamiji speech on TTD lands