GHHF In GUNTUR area, Archakas / PRIESTS were provided with TWO weeks Supply of Dry Goods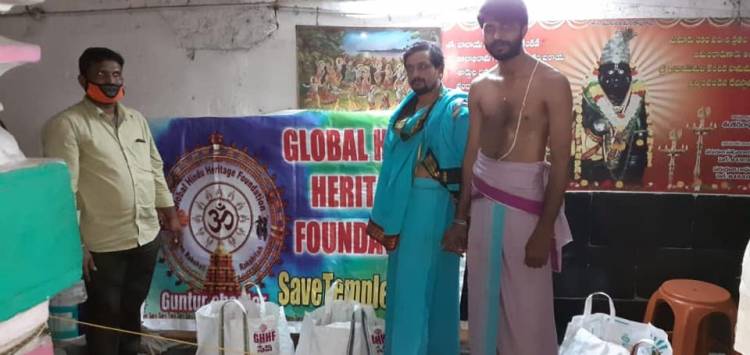 On June 28, Global Hindu Heritage Foundation has distributed 18 Dry food items to about 25 Priests around the Guntur area. Our team headed by Anil Kumar distributed along with three invited Guests.
Sri Srinivas, Headmaster of Vidyabharathi
Sri H Nagaraj of Shiva Sakthi
Sri Parasuram of RSS.
VILLAGES: They distributed the DRY items to these priests who belong to IPO colony, Old Guntur, Korika Padu, R Agraharam, Dandipalem, C R Nagar, Pothur, 5th Mile, Changizkhan Peta, and other areas.
Our team will resume once Coronavirus spread is under control.
As we mentioned earlier, many Archakas in VILLAGES are experiencing hardships and struggling to feed their families. GHHF is planning to distribute these items in Chittoor, Tirupati, Guntur, Vijayawada, and Visakhapatnam areas.
We completed the distribution in Tirupathi and Vijayawada. We have distributed to about 25 priests in Vishakhapatnam. Rest will be completed very soon.
Each bag/kit will have the following items: Rice, Wheat flour, Cooking Oil, Urad Dal, Moong Dal, Brown Sugar, Tea Powder, Meal Packet, Chilli powder, Soaps, Tamarind, Turmeric, Sugar, Coconut oil, Upma Ravva, Mustard Seeds, and other items.
Since the Lockdown due to the fear of spreading Coronavirus, all the Hindu Temples are closed. Now, many Pujaris / Hindu Temple priests are having a hard time meeting their basic needs. Many of them do not have any salaries either from the government or the private Temples. Most of them do not have enough savings to pay their rent and electricity. Furthermore, many private temples do not have enough income to pay their salaries. Consequently, many Pujaris do not have enough resources to meet their daily expenses to provide meals for their families. Recently, newspapers wrote about some priests begging on the streets as they could not provide meals for the family. That news pained so many people and some organizations are helping them financially. They are facing a grim and grave predicament.
It is time to help these Priests to meet their basic needs with our generous donation. It is time to acknowledge their invaluable service to Hindu Temples and Hindu Dharma. It is time to protect their dignity and self-respect.
DONATIONS:
We would appreciate your donation to continue annadanam to the needy, poor, Archakas/Priests in Villages.
PayPal Method: To donate visit our website. Click on the Donate button, then press the Purpose category and select Annadanam Category or General Donation category.
By Check: Or you can send a check payable to:
GHHF, 14726 Harmony Lane, Frisco TX 75035. It is tax-deductible.
For more information, call
601-918-711