[GHHF] Annadana Service Farm Laborers near Chittoor was done on May 10th
[GHHF] Annadana Service Farm Laborers near Chittoor was done on May 10th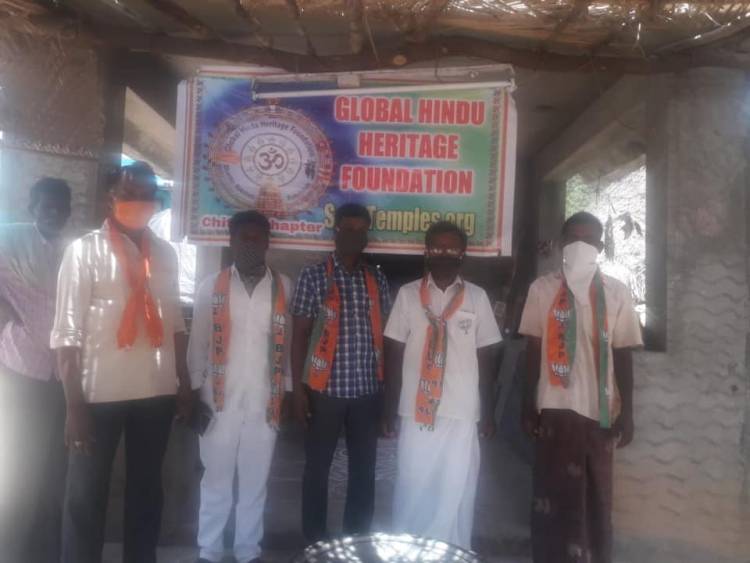 Annadana Seva is being organized in different locations in and around Chittoor. On Sunday, Sri Vijaya Kumar arranged the meals in Thotaana Palle village where the majority of the residents are BCs in Vedurakuppam Mandalam. Annadanam is being provided by the Global Hindu Heritage Foundation(GHHF) in association with RSS and other organizations in Chittoor. Sri V. Jayakumar, a practicing lawyer and Karya kartha of RSS organized a meeting on the importance of maintaining social distance and the importance of lockdown. Sri Jaya Kumar said that "this annadanam is being organized to serve meals to about 500 weaker sections under the banner of Global Hindu Heritage Foundation with the encouragement of Velagapudi Prakasarao, who is the President of GHHF. He mentioned that Prakasarao went to the USA about 55 years ago and doing a lot of services to preserve Hindu dharma in the USA and also in India. GHHF is fighting to free Hindu Temples from government control in India."
On 5th on the premises of Sri Ankala Parameswari temple in Kailasa Puram Village, they serve about 300 Meals to the needy.
Six newspapers covered the Annadana Seva recognizing the support from Global Jindu Heritage Foundation.
Annadanam to these needy people will continue until Lockdown is May 17th.
DONATIONS:
We would appreciate your donation to continue annadanam to the needy, poor, and tribals as well as animals.
Sponsor ONE day meals for $250.
PayPal Method: To donate visit our website. Click on the Donate button, then press the Purpose category, and select Annadanam Category or General Donation category.
By Check: Or you can send a check payable to:
GHHF, 14726 Harmony Lane, Frisco TX 75035. It is tax-deductible.
For more information, call
601-918-7111