Utsav VigrahPrathishta in Dalith Community on Sri Rama Navami Day
Saturday, March 31, 2018, 6:23
[GHHF] Utsav VigrahPrathishta in Dalith Community on Sri Rama Navami Day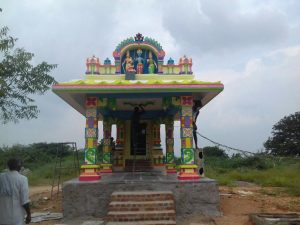 Dalith Community in Korrapadu Village near Ananthapur expressed interest in building Sri Rama Temple. Local leaders along with Sridhar Babu Parvataneni, local MLA and local MLC worked together to build a Temple. GHHF was approached to help with Vigrahas for Pranaprathishta. The murthies were ordered through TTD. Unfortunately, the Vigrahasa were not ready for installation. They wanted to have them installed by Sri Rama Navami day. They were very much disappointed for not having Temple inauguration on time. Then we decide to donate Utsav Murthy's so that they we can help the community to install them on Ramanavami day which was March 25th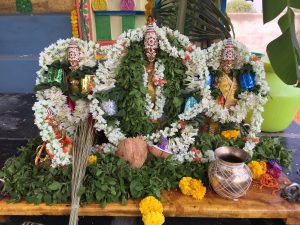 (Sunday). One of our Board member, Ram Sharma, who lives in Bengaluru has taken the responsibility in arranging the Utsav Murthiesfor the event.
Two-day function was held on March 24 and 25. Three priests were requested to undertake the installation ceremony.
More than 250 families participated. Almost all of them had raksha tied by the priest himself. The Dalithcommunity is very appreciative of our effort.
Once granite vigrahas are ready GHHF promised to help in organizing Pranaprathishta.Sri Ganapathy Sachchidananda Swamiji and Sri Paripoornananda Saraswati blessed the event

\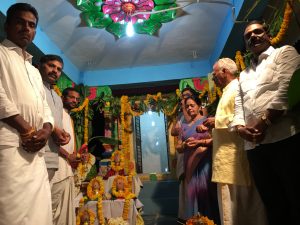 For More Photos Click Here
https://drive.google.com/drive/folders/1jm_AiMM9rPXoJ_vAxFg1WThf7zaApDV4?usp=sharing
————————————————————————————————————
DONATIONS
Please DONATE. Your donations are appreciated to continue the work.
NOTE: GHHF is exempt from federal income tax under section 501 (c) 3 of the Internal Revenue code.
Our tax ID # 41-2258630
Donate at: http://www.SaveTemples.org (click 'Donate' button on right side).
Where to send your DONATIONS?
Global Hindu Heritage Foundation
14726 Harmony Lane, Frisco, TX 75035.
Your donations are tax deductible. Our Tax ID: # 41-2258630
Any questions, call: Prakasarao Velagapudi 601-918-7111
About the Author