Invitation for Pujyasri Paripoornananda Saraswati Swamiji's SANKALPA DEEKSHA at Hyderabad
Friday, September 7, 2012, 17:51
This post has already been read 746 times!
Swamy Paripurnananda is organizing a spiritual, devotional protest "Sankalpa Dheeksha" in regard to Vakula Devi Temple on 09.09.2012 from 10.00 AM to 04.00 PM at TNR Fort Kalyana Vedhika, Near Asta Lakshmi Temple, Dilshuknagar, Hyderabad.
In this Swamy Paripurnananda Speech, Dr.Ghazal Srinivas Speech & Ghazals, Lalitha Sahasranama Chanting etc., will be there.   Around 5000 people will be expected to participate in this Dheeksha.
Program will be organized by Hindu Raksha Vedika and supported by Savetemples.org
Invitation enclosed herein: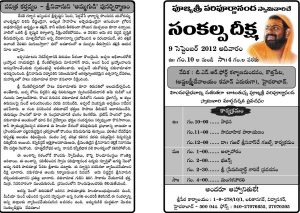 About the Author